Looking for an easy, filling weeknight meal? Make this stuffed pepper soup, a one-pot recipe that's ready in under 40 minutes. Every spoonful is essentially a deconstructed stuffed pepper, thanks to the tasty combo of bell peppers, Italian sausage and crushed tomatoes. One batch yields at least 8 servings (depending on the serving size), so feel free to cut the recipe in half if you're only cooking for a few people.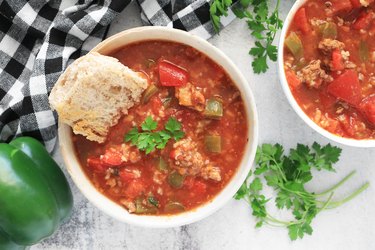 Things You'll Need
1 pound ground beef, chicken or turkey

1 pound Italian sausage, casings removed

1 small white onion, diced

2 bell peppers, deseeded and diced (any color)

1 teaspoon jarred minced garlic (or 3 fresh cloves, minced)

28 ounces diced tomatoes, undrained

28 ounces crushed tomatoes (or tomato sauce)

4 to 6 cups low-sodium beef broth

1 teaspoon Italian seasoning

1 teaspoon salt

1/2 teaspoon ground black pepper

1 1/2 cups cooked brown rice

3 tablespoons fresh parsley

Oil
Tip
For a chunky, thick soup, use 4 cups of broth. For a thinner soup, use 5 or 6 cups, or half the listed amount of crushed tomatoes. You can also use a combination of broth and water.
Step 1
If you're using extra-lean ground beef, chicken or turkey, add 1 or 2 tablespoons of oil to a large pot. Warm over medium heat. Add the ground meat and sausage until brown, breaking it apart with a spatula.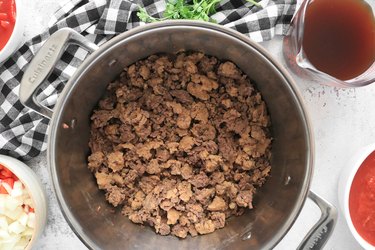 Step 2
Add the diced onion, bell pepper, Italian seasoning, salt and black pepper. Cook for 5 to 7 minutes, mixing frequently to evenly cook the vegetables. Add the garlic and cook for 30 seconds.
Step 3
Add the diced and crushed tomatoes, along with the broth (and water, if using). Mix well, bring to a boil then reduce the heat. Simmer for 25 to 30 minutes, or until the bell peppers are tender.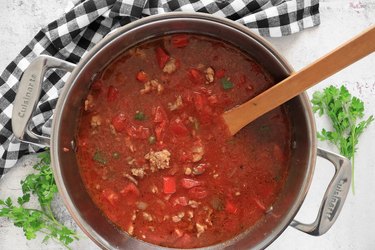 Tip
If you want to use 6 cups of liquid but your pot isn't big enough, add the first 4 cups and simmer the soup. After it's slightly reduced and thick, you can add the remaining 2 cups of liquid.
Step 4
Add the cooked rice and mix well. Simmer for 5 minutes.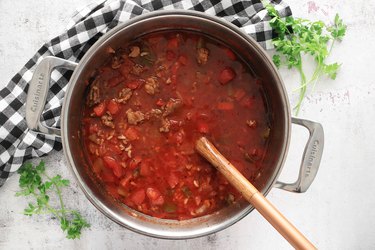 Spoon into bowls, top with fresh parsley and serve with toasted bread.