Many "home hacks" revolve around ways to use common household items like vinegar or baking soda to clean things. Another whole class of hacks finds unexpected ways to use the cleaning products you've already got. Consider those detergent tabs you use in your dishwasher, for example. Not only do they get your dishes clean, their concentrated stain-removing and grease-cutting power make them surprisingly versatile for general-purpose cleaning.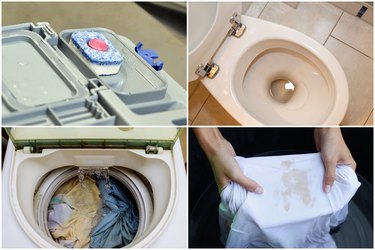 1. De-Gunk That Oven Door
One of the toughest messes in the entire house is the baked-on grease and grime that accumulates on the inside of your oven door, especially if you like to use your broiler for steaks, chops and burgers. It turns out a dishwasher tablet is just the thing for cutting through that baked-on grime. Just moisten one end of the tablet, and scrub away at the mess. The tablet's cleansers and grease-cutters will go through the stuck-on gunk with surprising ease. Just be sure to wear a glove, because the cleansers will be hard on your skin.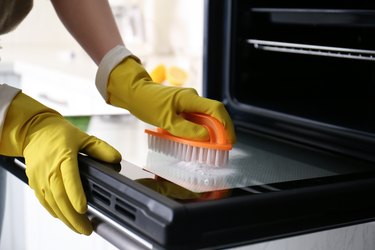 2. Soak Stained Coffee and Tea Mugs
Coffee and tea have a couple of things in common. One is their bracing dose of caffeine, without which nobody would ever get anything done. The other is their unfortunate habit of staining your favorite mug over time (you can call it a "patina" if you like, but you're not fooling anybody). To get rid of those tough stains easily, dissolve a piece of your dishwasher tablet in a cup of hot water, and pour it into the mug. After an hour or so, it should come clean with a quick rinse and wipe. There's often a broken tablet in the bottom of the box, and this is a great way to use it.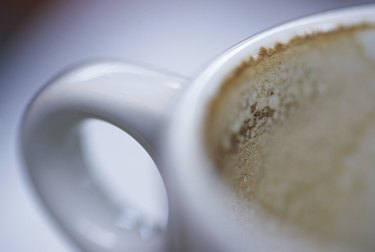 Kitchen and bathroom sinks look their best when they're absolutely gleaming, but sometimes it's hard to keep them that way. If scrubbing with conventional cleaners isn't your thing, it's time to bring our the dishwasher tablets. Moisten the end of a tablet with warm water, then use it to scour stains and buildup from your sink and its drain. The tablet's concentrated cleansers work quickly when they're applied directly to a stain like this, and the tablet itself acts as a mildly abrasive scrubbing pad to remove stuck-on grime.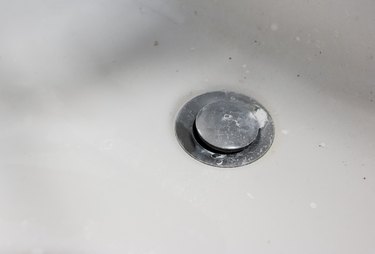 4. Clean a Stained Toilet
Dishwasher tablets are formulated to help keep hard water from gunking up your machine, and that means they're also surprisingly effective in other places where buildup can stain or dull the finish of your fixtures. One obvious example is the toilet, where stains can make even a well-kept bowl look unsightly. To clean your toilet the easy way, drop a dishwasher tablet into the bowl and let it dissolve. After an hour or so, you'll only need to give it a quick swipe with the brush to remove even stubborn stains.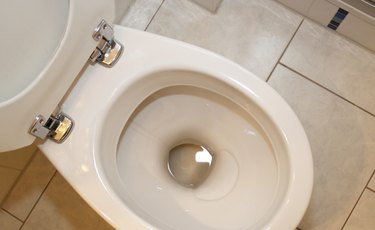 5. Leave Your Washing Machine Sparkling Clean
With time and use (so, so much use!) your washing machine's tub and interior workings can develop a buildup of soil from clothing, minerals from your water and even detergent residue. Getting those off can be as simple as dropping a dishwasher tab into the machine and running it through a cycle with hot water. Running it empty works just fine, or you can get double the benefit by dropping in a handful of kitchen towels or cloths. They'll provide just a bit of scrubbing action to help the dish tab do its work.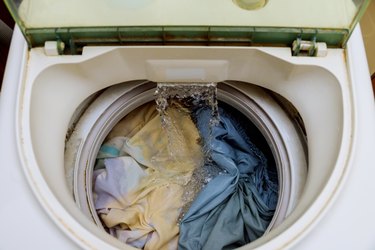 6. Remove Stains From Clothing
Some of the toughest stains you'll face on laundry day include anything greasy and oily, or protein-based stains from food and blood. As it happens, these are exactly the kinds of things that dishwasher tablets are designed to remove from your food, and they'll work equally well on your clothes or other fabric surfaces, including rugs and upholstery. Just moisten the stained area and the end of your dishwasher tab, then rub the stains with the tablet. Rinse and repeat, if necessary, before washing.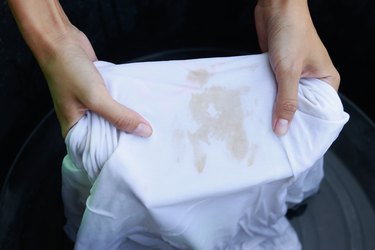 7. Remove "Kid Art" from Walls and Floors
Some of the toughest cleaning problems of all result from your kids' artistic leanings. Getting a colorful patch of crayon from the wall or floor usually requires some serious scrubbing, but a dishwasher tablet will make it easier. Dissolve a tablet in a bucket of hot water, and sponge that concentrated solution onto the crayoned area. Give it a few minutes to do its work, then scrub it with a brush or scouring pad. The crayon should come off easily, thanks to the grease-cutters in the tablet.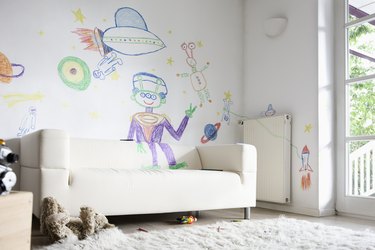 8. Easy Cleaning for Your Trash Can
There's nothing pleasant about having a dirty, smelly trash can in your house. Unfortunately, there's even less that's pleasant about having to scrub one out by hand to ​keep​ it from being dirty and smelly. A dishwasher tablet provides a quick, easy solution. Just drop a whole tab into your trash can, fill the can with hot water, and stir a few times until the tablet has dissolved. Let the hot, soapy water sit for an hour or so, then carefully empty it out. It's best to do this outdoors or in your bathtub, so you can just tip the can over rather than having to lift it.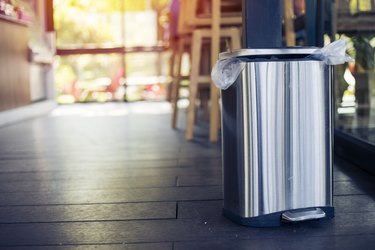 9. Clean Dirty Vases Between Bouquets
A vase filled with beautiful cut flowers is one of the most appealing accents you can use in a room. A vase that's encrusted on the inside with built-up scale, on the other hand, takes away from the overall impression. While some vases are easy to scour by hand, others are not. To clean those, dissolve part of a dish tablet in hot water and pour it into the vase. Swirl the solution occasionally, then drain and rinse after an hour. Depending how badly soiled your vase is, you may need to repeat the treatment.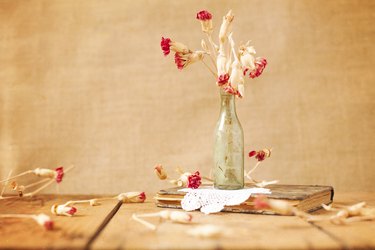 10. Remove Stubborn Stains from Plastic Furniture
Over the winter your plastic patio and deck furniture can get surprisingly grungy, especially if you don't have a sheltered place to keep them. The chairs' plastic surface is oddly resistant to cleaning with most conventional cleansers, but dishwasher tablets are up to the task. Dissolve a tab in a bucket of hot water, sponge the mixture liberally over your patio furniture, and let it sit for several minutes. When you wipe down the chairs afterwards, the accumulate stains should come right off.