Bruschetta is a classic Italian appetizer made of fresh basil and juicy tomatoes on top of toasted bread. It's also super easy to make at home, even if you're not an experienced cook. Simply toss, toast and enjoy. Here's how to make it yourself!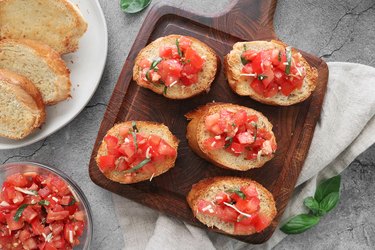 Things You'll Need
6 or 7 ripe Roma (plum) tomatoes

1/3 cup grated Parmesan cheese

1/3 cup basil, thinly sliced (chiffonade)

2 tablespoons extra virgin olive oil

2 cloves garlic, finely minced

2 tablespoons balsamic vinegar

1/2 teaspoon salt

1/2 teaspoon ground black pepper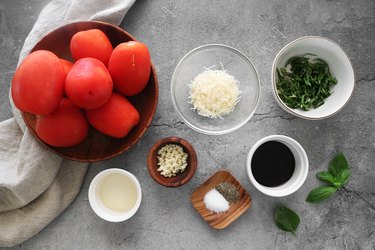 Step 1
In a small skillet over medium-low heat, warm the oil. Add the minced garlic. Cook until golden, about 45 seconds to 1 minute, making sure it doesn't burn. Let cool completely.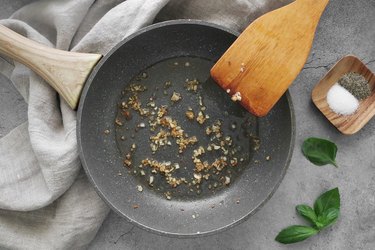 Step 2
Dice the tomatoes, keeping the seeds and juices. This will help deepen the flavor of your finished bruschetta.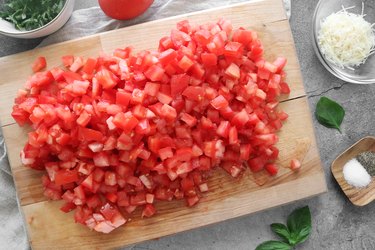 Step 3
In a large bowl, combine the diced tomatoes, cooked garlic, Parmesan, basil, balsamic vinegar, salt and pepper. Toss well.
Chill for 30 minutes to let the flavors blend together. If possible, chill for a few hours or overnight.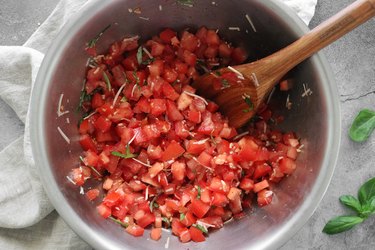 Things You'll Need
1 loaf French bread

1 clove garlic, halved

Extra virgin olive oil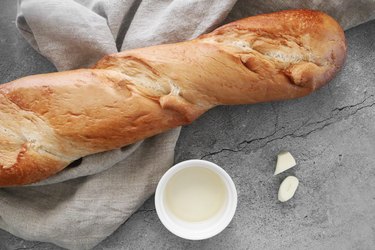 Step 1
Just before serving the bruschetta, preheat the oven to 400° F.
Slice the French bread into 1/2-inch thick slices, creating about 15 pieces total.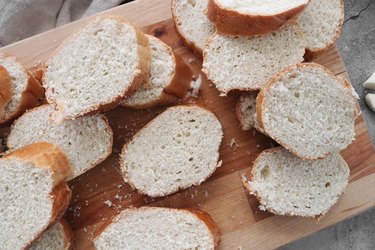 Step 2
Place the slices on a large baking sheet. Liberally brush both sides with olive oil.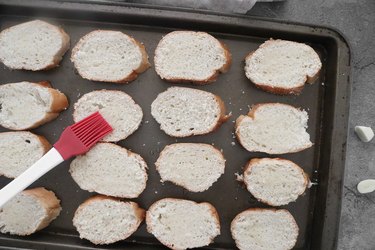 Step 3
Rub each slice with halved garilc, flat side facing down.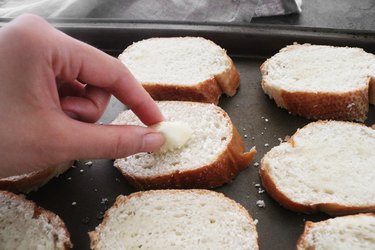 Step 4
Toast for 12 minutes, flipping halfway through. The bread is ready once it's golden and crispy.
Step 5
Using a slotted spoon, top the bread with the tomatoes. Serve immediately.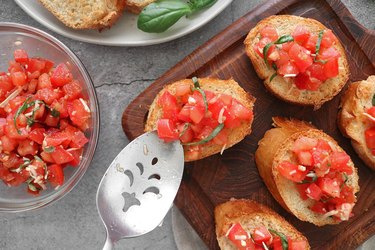 If you have leftover tomatoes, simply slice and toast another loaf of French bread. You can also eat it with pasta, pair it with chicken or toss it into a salad.
While you're at it, don't discard the juices! Mop it up with extra bread for a fresh and garlicky appetizer.