For a lot of people, more time at home means much more time in the kitchen. We asked our Facebook community to show off their best quarantine culinary creations and we were nothing short of amazed by the results!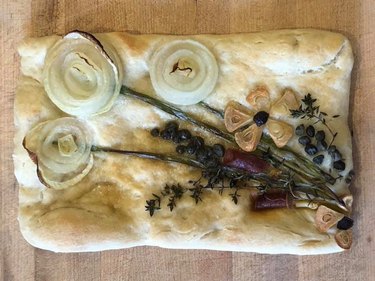 After weaving through a number of mouthwatering images and recipes, our team narrowed things down to two finalists; Jaclyn Marie's artistic focaccia and Areeba Azam's chicken burgers. The two went head to head in a Facebook poll, and we are thrilled to congratulate Jaclyn Marie for claiming the top spot with her edible work of art!
"I try to make my focaccia as appealing as possible by turning it into art," Jaclyn Marie shared. "People who don't typically enjoy vegetables might be intrigued enough to try this delightful focaccia. This Spring Bouquet design is simple and beautiful and the visual appearance should ensure that every bite is a little more enjoyable than it otherwise would be!"
Congratulations to Jaclyn Marie, and thank you to everyone who participated. Be sure to like and follow eHow's Facebook page to stay up-to-date on all of our latest contests and recipes!