For an easy weeknight meal, make this chicken pot pie pasta. It features the same heartiness of chicken pot pie — minus all the work! By replacing the pie crust with quick-cooking noodles, you can make a comforting dish that's hard to resist. Plus, from the sauce to the vegetables, you can customize this recipe based on what you have on hand. All you need to do is cook, mix and enjoy.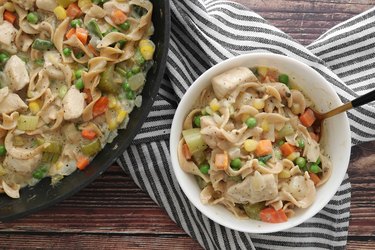 Things You'll Need
2 cups egg noodles, uncooked (see options below)

2 cups frozen mixed vegetables

1 cup celery, chopped

1 medium yellow onion, diced

3 garlic cloves, minced (or 1 1/2 teaspoons jarred minced garlic)

1 pound boneless, skinless chicken breasts or thighs

2 to 2 1/2 cups chicken broth

1 cup heavy cream

2 tablespoons unsalted butter

2 tablespoons all-purpose flour

1 teaspoon dried sage

1 teaspoon dried oregano

Salt and pepper, to taste

1 tablespoon olive oil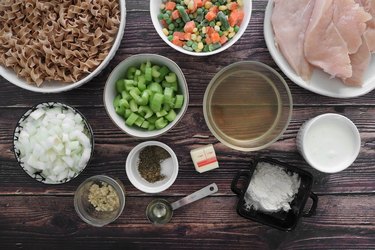 Tip
If you'd like to use a different type of pasta, or if your pasta requires more than 10 minutes to cook, prepare it separately. You can add the pasta in the last step, just before serving.
Step 1
Pat the chicken breasts dry and season with salt and pepper. Cut into 1-inch cubes.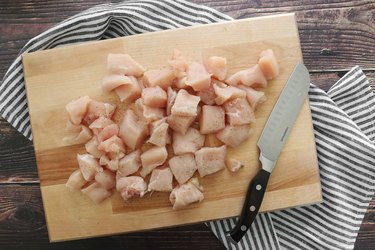 Step 2
Warm oil in a large skillet over medium-high heat. Add the chicken, stirring frequently to ensure even cooking. Cook until it's no longer pink and reaches an internal temperature of 165 degrees Fahrenheit. Place the chicken on a plate and set aside.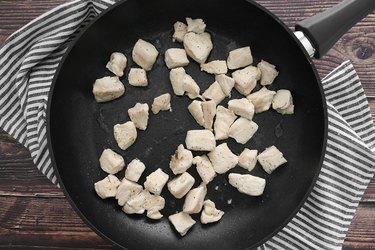 Step 3
In a large skillet or pot, melt 2 tablespoons butter over medium heat. Cook the onions and celery until the onions are translucent, about 5 to 7 minutes.
Step 4
Add the minced garlic, flour, sage, oregano, salt and pepper. Cook for 30 seconds, stirring occassionaly to coat the vegetables in flour.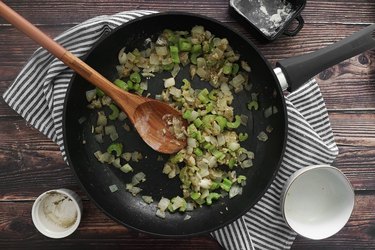 Step 5
Add 2 cups chicken stock and heavy cream. Bring to a boil, then reduce to a simmer.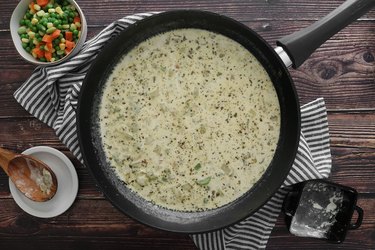 Step 6
Add the egg noodles and simmer for 7 to 9 minutes. Stir well to ensure even cooking. If necessary, slowly add another 1/2 cup chicken broth to make sure there's enough liquid to cook the noodles. Once the noodles are ready, add the chicken and simmer for 5 minutes.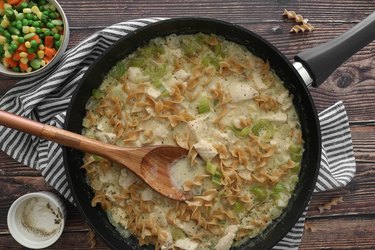 Tip
You can mix in a dollop or two of sour cream to make the dish extra creamy.
Step 7
Finally, add the frozen vegetables. Simmer for 5 minutes or until heated through, stirring occassionally.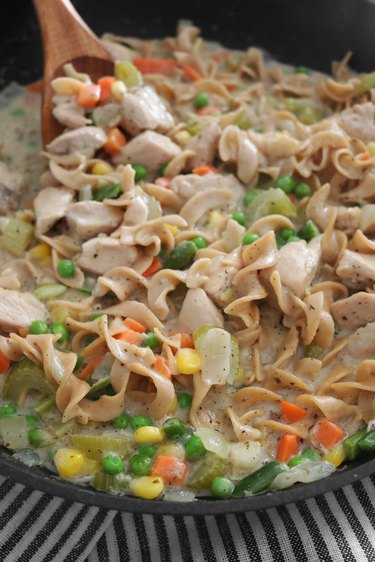 Tip
If you cooked the pasta separately, add it to the skillet now. Stir well to coat the pasta in sauce.
The sauce will thicken as the pasta cools. To serve, sprinkle with Parmesan cheese, breadcrumbs or fresh herbs of your choice.