Salvadoran papusas are made with masa corn flour and turn out crispy on the outside and soft on the inside — plus, they are absolutely delicious! You can fill papusas with your choice of cheese, refried or whole beans, shredded chicken, pork or beef. This easy, step-by-step tutorial brings inspiration to prepare the classic dish at home to share with family and friends.
Things You'll Need
2 cups instant corn masa flour

1/2 tsp sea salt

1/2 tsp ground cumin

2 1/2 cups warm water

2 cups grated cheddar cheese

3 to 4 tablespoons high temperature cooking oil (such as canola oil)
Make the Papusa Dough
Step 1
Add the dry ingredients to a stand mixer and mix until combined.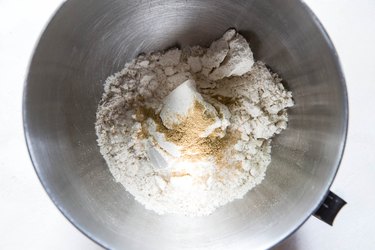 Step 2
Add the hot water and use the paddle attachment to beat the mixture until a thick dough forms.
Step 3
Use your hands to form the dough into a large ball and place back in the mixer bowl. Cover with a damp towel and allow dough to sit 15 to 20 minutes.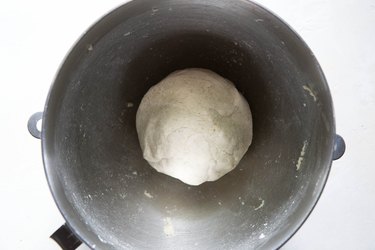 Form the Papusas
Step 1
Divide the dough into 6 to 8 portions (depending on the size of papusa you'd like). Roll each portion into a ball.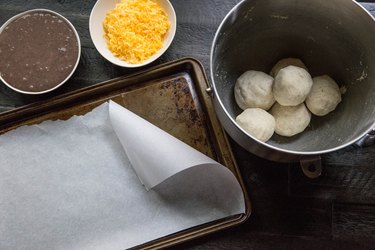 Step 2
Press the dough to form a well. It should look like a small bowl with thick sides.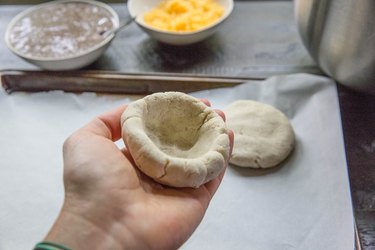 Step 3
Place 2 to 3 tablespoons grated cheese into the well, then press the cheese down to make it easier to fold the dough over the top.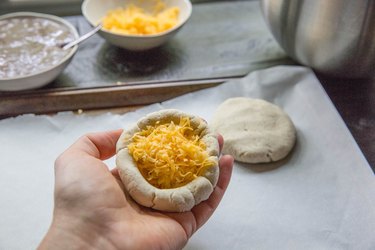 Step 4
Using both hands, fold the corners of the papusa dough over the cheese filling. Keep pressing together until you're back to a ball of dough and the cheese filling is entirely enclosed.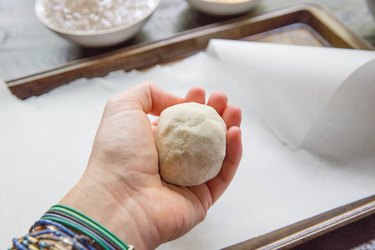 Step 5
Press the dough into a disc, about 4 1/2 to 5 inches wide.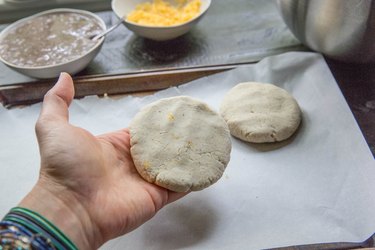 Repeat for remaining dough.
Step 6
Heat 2 to 4 tablespoons of high-temperature cooking oil (such as canola oil, avocado oil, or algae oil) in a large cast iron skillet over medium heat.
Once the skillet is completely hot, carefully place two to three papusas on the hot surface. Cook 2 to 3 minutes, carefully flip, then cook another 2 to 3 minutes until papusas are cooked through and crispy.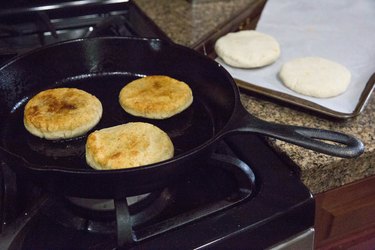 Serve papusas with choice of salsa, sauce, and/or bean dip!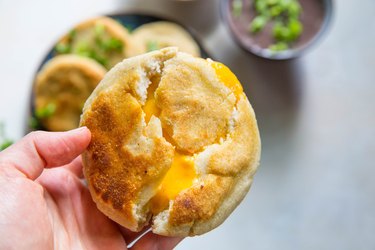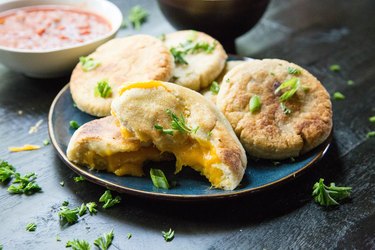 Tip
Instead of grated cheddar cheese, you can use crumbled queso fresco/cotija cheese, or even mozzarella cheese.
Add 2 Tbsp refried black beans to the center of the papusas for a bean and cheese version.
Use shredded chicken, pork, or beef for a meat lover's version.