Macaroni salad is a party staple, whether you're hosting a potluck or a summer barbecue. Luckily, it's also extremely easy to make! But if you're looking to take your party grub to the next level, you'll want to make this BLT macaroni salad. Thanks to the simple addition of bacon, lettuce and tomato, you can infuse a simple macaroni salad with the best flavors of the classic sandwich. Plus, like all salads, you can easily adjust the ingredients to suit your liking. Read on for the recipe, below.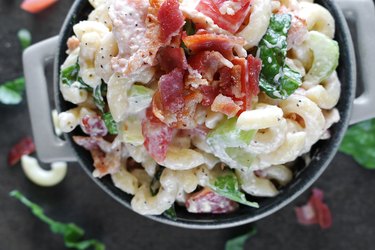 Things You'll Need
16 ounces macaroni

1 cup mayonnaise

1/2 cup sour cream

8 to 10 strips of bacon, cooked and chopped

1 1/4 cup romaine lettuce, roughly chopped

1 cup tomato, seeded and diced

1 cup celery, chopped (optional)

2 to 3 tablespoons apple cider vinegar, white vinegar or lemon juice

2 teaspoons ground black pepper

2 teaspoons salt

2 teaspoons garlic powder

Dash of paprika (optional)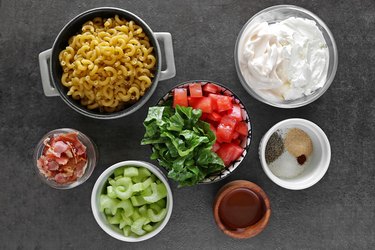 Step 1
Combine the mayonnaise, sour cream, apple cider vinegar and spices in a bowl and mix well. Place the dressing in the refrigerator to chill.
Tip
Feel free to adjust the spices according to your liking. For example, if you'd like an extra kick, add a dash or two of paprika. You can also add more or less apple cider vinegar depending on your desired level of tanginess.
Step 2
Cook the macaroni according to the package's directions.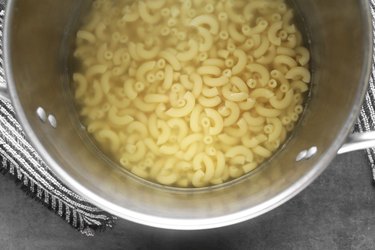 Step 3
In a large bowl, combine the cooked macaroni, lettuce, celery and bacon. Set aside some bacon for the topping.
Step 4
Toss until the ingredients are thoroughly combined.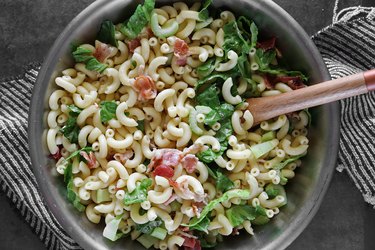 Step 5
Add the chilled dressing and mix well. Give it a taste and add more spices, if necessary. If the macaroni salad is too dry for your liking, add a few tablespoons of sour cream or mayonnaise.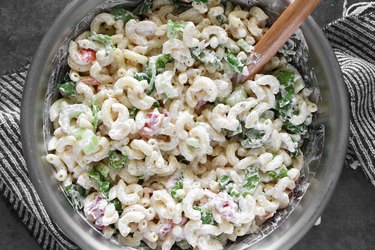 Tip
Some people like to add shredded Cheddar cheese, diced red onions or croutons to this macaroni salad. Start with 1 cup of each ingredient and gradually increase from there.
Step 6
Chill the macaroni salad for at least 30 minutes. Add the diced tomatoes just before serving, and mix well.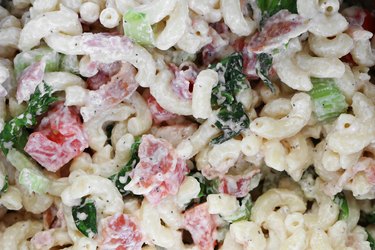 Top with bacon and enjoy!