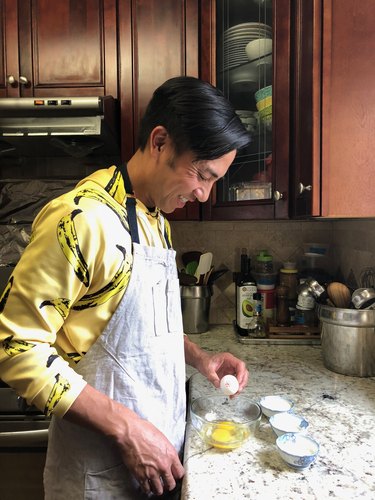 Make It Egg-Cellent - in partnership with Eggland's Best, we asked our favorite chefs to take a breakfast, lunch, or dinner staple and make it better by adding EB eggs to it, and ended up with a few exclusive and delicious recipes that you can make at home.
I honestly am not sure there is a more American lunch than the classic BLT, and I have a long standing love for eggs in almost everything I eat and want to eat. With this, I also wanted to use an egg in a creative way people may not have thought of for any sandwich, and show that there can be more than one use and way to think of an egg, too.
In this case, "toasting" the bread (in a more savory than typically served for brunch French-style), and then using the remainder of that batter as a delicious foundation for a delectable Japanese-style omelette that will compliment the "toast" making an already well-known classic a little bit more hearty, too. Or more simply, I don't know how to see and crave a BLT any other way for myself now.
Eggland's Best eggs are great for this recipe because they have 25% less saturated fat compared to normal eggs and each large egg is only 60 calories!
Things You'll Need
4 bacon slices

3 count Eggland's Best large eggs

2 tbsp milk

2 tsp sugar

1 tbsp shredded parmesan cheese

2 slices bread

Cooking oil

1 leaf green leaf lettuce

2 thick tomato slices

1 tbsp Kewpie Japanese mayo or any mayonnaise (especially freshly made with Eggland's Best eggs)

1/2 tbsp mirin

1/2 tbsp soy sauce
Step 1
Cook bacon (always nice in a skillet) over medium-high heat until browned on both sides for about 8-10 minutes. Drain bacon fat (save it for later!) and pat dry bacon slices.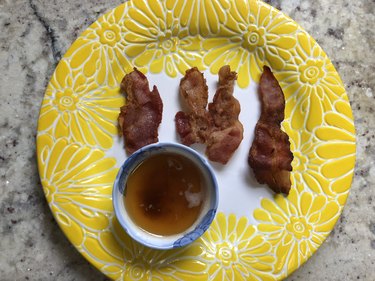 Step 2
Whisk Eggland's Best large eggs, milk, sugar and parmesan in a bowl.
Step 3
Dip bread in Eggland's Best egg wash, deliciously drenching both sides. Drain excess egg over/back into the bowl. We'll be using all the leftover egg.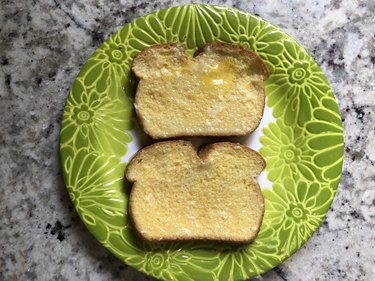 Step 4
Cook in a pan with cooking oil (but if you're down to make it more deliciously savory, in the same pan used to cook the bacon AND using the drained bacon fat you just saved) until both sides are golden brown.
Step 5
Set aside. Lay lettuce and tomato on one slice of newly savorily french toasted bread (you're welcome :D). Spread your desired mayo and then lay bacon on the other side of bread while it's still slightly warm so that mayo thins out just slightly to make your sandwich even more unctuous in the process.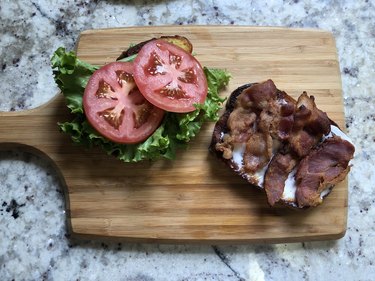 Step 6
Mix mirin and soy sauce into the "leftover" Eggland's Best egg wash until it's one uniform color.
Step 7
Add cooking oil in a small pan and spread it evenly over medium to medium-high heat.
Step 8
Pour a little bit to enough (but not all) of the "leftover" Eggland's Best egg wash to cover your heated small pan. Once it has cooked a little bit (but still a little loose on top), gently and evenly push the layer of egg to one side of the pan with a spatula.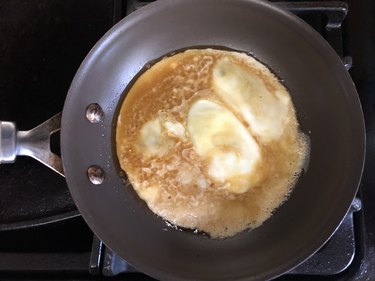 Step 9
Add a tad bit more cooking oil to the pan, and be sure to spread it all across the pan evenly. Add enough Eggland's Best egg wash to cover the pan. Once it begins to cook a little but not completely cooked through, start "rolling" the previously cooked egg at the edge of the pan over the new layer. Roll it until you reach the other side of the pan.
Step 10
Continue this process of adding oil, more layers of egg and rolling back and forth until you use up all the leftover egg wash to create a Japanese "tamagoyaki" omelette. Adjust/lower heat of pan if over cooking or cooking through more when rolling.
Step 11
Remove from pan. Slice as thin or thick as you would like it in your patiently waiting sammie. Add one or two slices as a layer on the bacon-mayo spreaded bread. Marry the two sides of french toasted bread and filling together for one beautiful and doubly delicious egg-licious meal.
Step 12
Slice the rest of the Japanese omelette, eat as a side dish, refrigerate and save as a snack or add to other tasty sandwiches.