Things You'll Need
2 lbs. pork cube steak

1 tsp. salt

1 tsp. pepper

1/4 cup vegetable oil

Skillet

1 tbsp. flour

3 large onions

2 cups chicken stock

Platter

Cooked white rice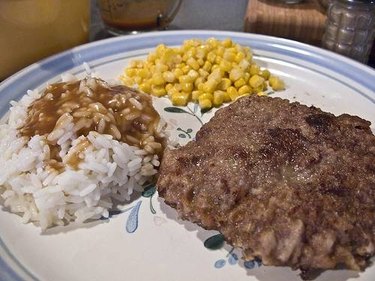 Pork cube steak is a cut of meat from the sirloin of the pig. The meat is pressed by a special machine that breaks the fibers in the steak, tenderizing the meat and increasing juiciness. The machine imprints tiny cubes on the meat, which is the origin of the name "cube steak." This recipe yields six pork cube steaks and will serve six people.
Step 1
Cut 2 lbs. of pork cube steak into six 5 oz. portions, and then lightly sprinkle salt and pepper onto both the top and bottom sides of each piece. Pour ¼ cup of vegetable oil into a large skillet and place on the burner over medium heat.
Step 2
Dredge each piece of pork cube steak in flour, and then transfer them into the skillet. Cook each piece for four minutes on each side, or until browned. Transfer the browned steaks to a platter.
Step 3
Cut 3 large onions into thin slices and transfer them into the skillet. Cook them for about three minutes, or until they are wilted. Reduce the heat to low and sprinkle 1 tbsp. of flour onto the onions and continue cooking, stirring constantly.
Step 4
Cook the onions and flour for four minutes, and then add 2 cups of chicken stock to the skillet. Continue stirring, and increase the heat to medium-high until the stock comes to a boil. Reduce the heat to low.
Step 5
Transfer the steaks back to the skillet and simmer for 45 minutes. Move the steaks to a platter and season the gravy with salt and pepper to taste. Serve the pork cube steaks over white rice coated in gravy.
Tip
Water can be used in place of chicken stock if desired or necessary.
Stir constantly from the time the flour is mixed with the onions until the steaks are added to the gravy. Lumps of uncooked flour can be left throughout the gravy if stirring is not maintained.