Wall decor can either make or break a space, but it doesn't have to break the bank! Follow this simple tutorial to make a beautiful DIY tassel wall hanging with just a few budget-friendly materials. If you are looking for a quick, easy and fun DIY home decor idea, this is the perfect weekend project for you.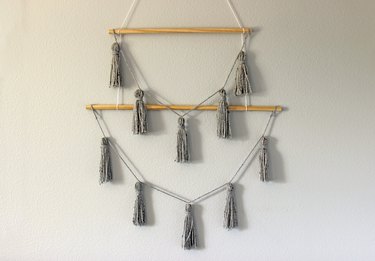 Things You'll Need
Yarn

Scissors

(1) 24" wooden dowel

(1) 18" wooden dowel

Wire snips (optional)

Hot glue gun + hot glue sticks

Gold wire (optional)

Small piece of cardboard or scrap wood as DIY template (optional)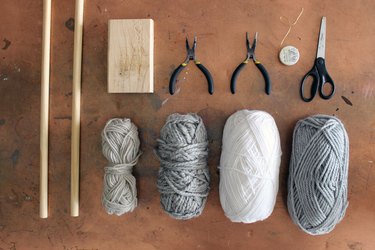 Step 1: Form Tassels
Wrap yarn around a piece of scrap wood or cardboard about 15-20 times. Using a piece of cardboard or wood as a DIY template will ensure your tassels are the same length throughout your piece.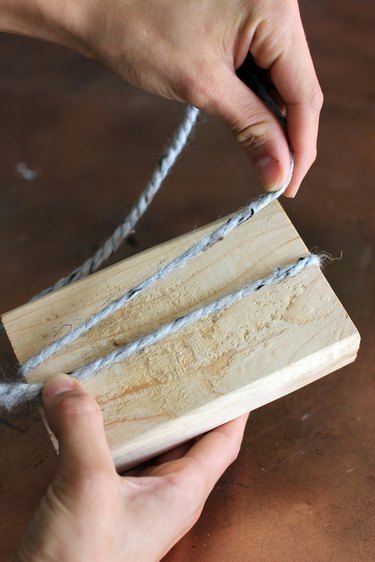 Take a shorter piece of yarn and slip it under the rest. Then pull it up towards the top of the wood piece and tie a knot.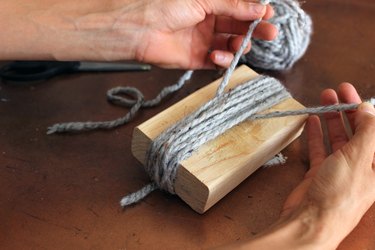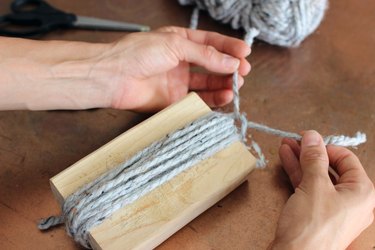 Cut the bottom yarn ends to open up the tassel.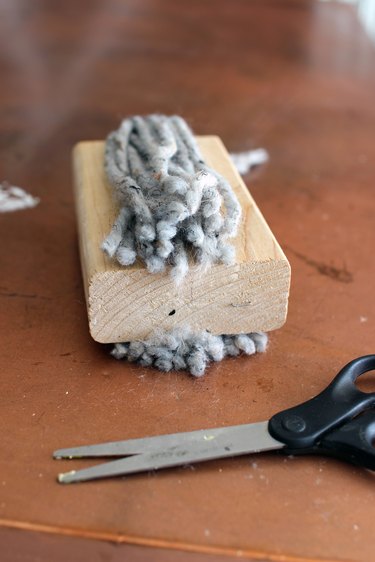 Step 2: Add Gold Detailing
Cut off a small piece of gold wire using wire snips. This golden detail is optional but it does luxe it up a bit.
Loop the wire through where the existing tie is and close the wire into a small circle.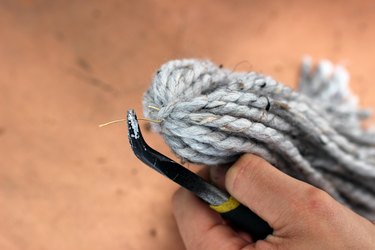 Turn the knot inside the tassel to hide it.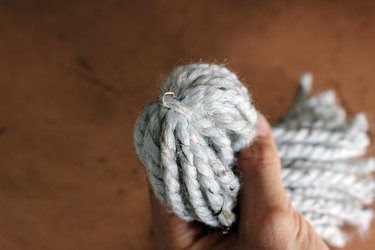 Step 3: Finish Tassels
Wrap an excess piece of yarn around the bundle towards to top to finish the tassel. Then trim the bottom pieces until even.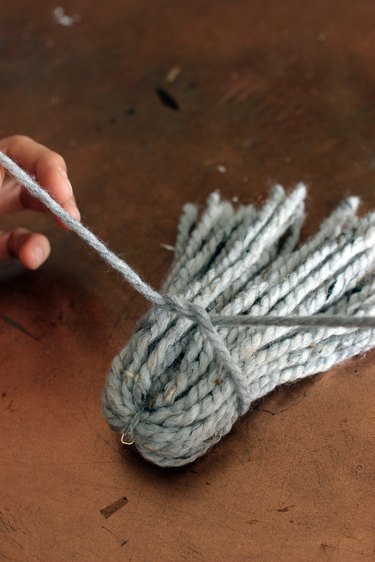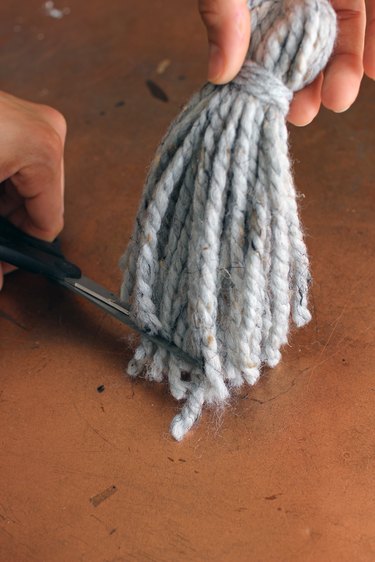 Repeat these steps to create as many tassels as you'd like.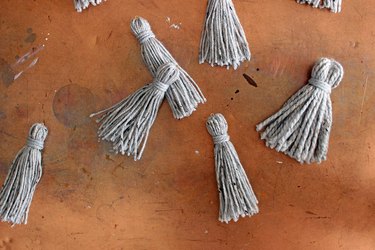 Tip
Using a skinnier yarn makes the piece look more elegant.
Step 4: String Tassels Together
Place the small dowel horizontally above the large dowel and space them out. Place tassels how you'd like them to drape between the two dowels.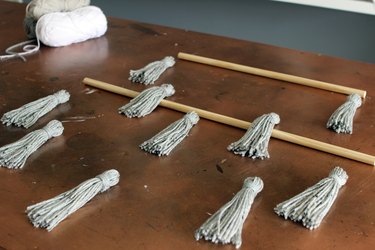 Feed a string of yarn through the wire loops of the top layer of tassels. Then repeat on the bottom layer of tassels.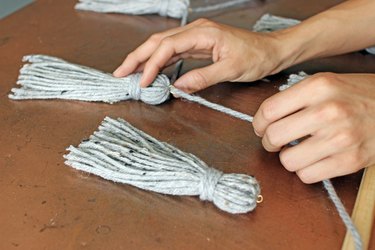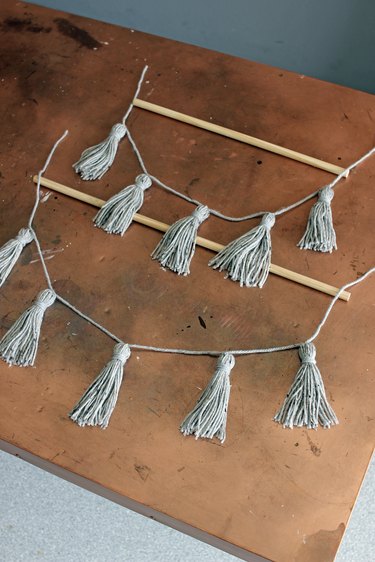 Step 5: Secure Dowels Together
Remove the strings of tassels and drape a string of yarn vertically over each end of the laid out dowels. Then tie the yarn onto the ends of each dowel.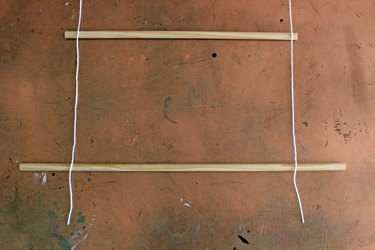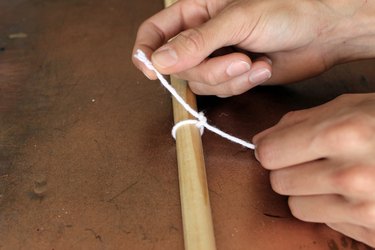 Tie the yarn together at the top to create a place to hang the piece.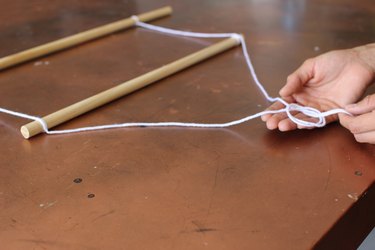 Step 6: Add Tassels
Tie each strand of tassels to its corresponding dowel, and add a dab of glue at the ends to secure.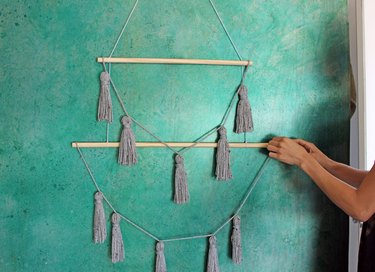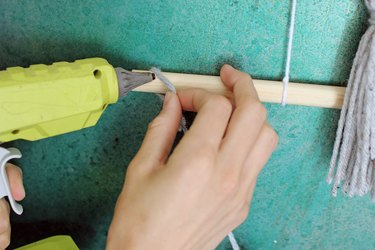 Hang and enjoy! All in all, this project took roughly an hour with no interruptions.