When I was growing up, one of the most memorable commercials on television was one for a bath product featuring a harried mother who just can't take it anymore. In exasperation, she calls out to the brand to "take me away." Ever since then, I've always associated a warm, fizzy bath with the ultimate escape. But you don't need to rely on a television announcer in the sky to answer your call for some luxuriant me-time. Pamper yourself with this easy recipe for floral bath salts. The minerals in the salt help to relieve stress and detox the body, while the essential oils and the dried flowers have restorative benefits for both your skin and your spirit.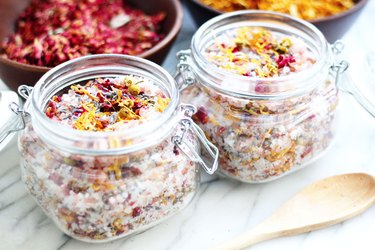 Things You'll Need
Epsom salt, 1 cup

Pink Himalayan salt, 1 cup

Dead Sea salt, 1 cup

Baking soda, 2 tablespoons

Sweet almond oil, 2 tablespoons

Essential oil of your choice, 20 drops

Dried roses, 1 tablespoon

Dried lavender, 1 tablespoon

Dried calendula, 1 tablespoon

Dried chamomile, 1 tablespoon
Step 1: Start with Epsom Salt
Scoop one cup of Epsom salt into a large mixing bowl. Epsom salt is not actually a salt, but a mixture of magnesium and sulfate—minerals that are easily absorbed into the skin. Magnesium reduces inflammation, while sulfates flush toxins from the body.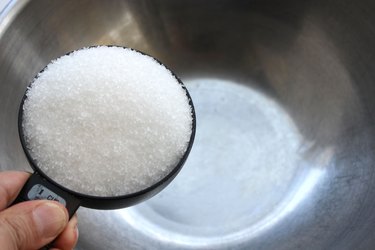 Step 2: Add Pink Himalayan Salt
Add one cup of Pink Himalayan salt to the Epsom salt. Himalayan salt is said to boost your immunity, extract toxins and nourish your skin. And just as importantly, it's pink, folks!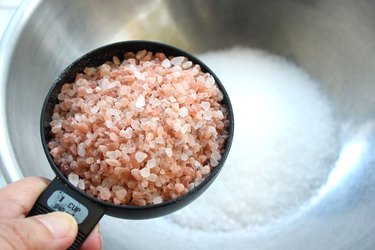 Step 3: Add Dead Sea Salt
Add one cup of Dead Sea salt. People from all over the world go to the Dead Sea to soak in its miraculous waters, and this salt mined from the Dead Sea provides therapeutic benefits like relieving stiff joints, treating common skin disorders, and even helping skin look younger.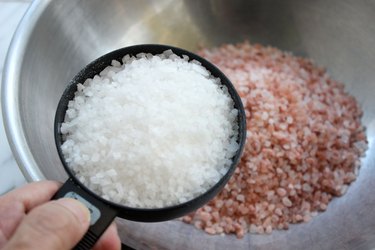 Step 4: Add Baking Soda
Add two tablespoons of baking soda to the three salts. Baking soda has long been a fixture of beauty regimens. It helps balance the pH of your skin, and I love how silky it makes your skin feel.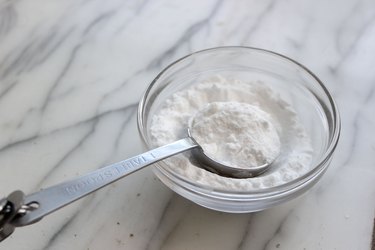 Then stir all the elements together.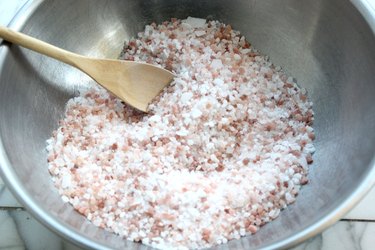 Step 5: Add Essential Oils
Combine 15 to 20 drops of your favorite essential oil (stick with essential oils that are on the gentle side like lavender or rose) and two tablespoons of a carrier oil like sweet almond oil. Essential oils are very powerful and can irritate your skin; that's why it's best to combine it with a carrier oil first.
Then add the oil mixture to the salt and stir.
Warning
The carrier oil could leave some residue on your bathtub, so be cautious when getting out of the tub.
Step 6: Add Dried Flowers
What really makes these bath salts special are the dried flowers. Besides looking beautiful, they have therapeutic properties that transform a regular bath into a spa experience. For instance, roses are a powerful skin rejuvenator, chamomile reduces redness and calms the skin, lavender relieves stress and tension, and calendula (a type of marigold) is an anti-inflammatory.
Add one heaping tablespoon of each of these flowers to your bath salt mixture. Packets of pre-dried flowers are available online, and for added convenience, they come in sets that include multiple floral varieties like the ones I've selected.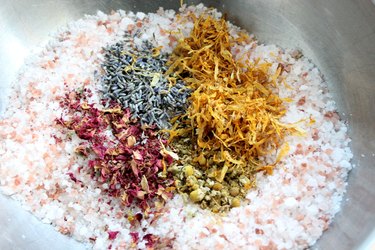 Stir the flowers into the mixture. If you would like more of any type of flower, go ahead and add it.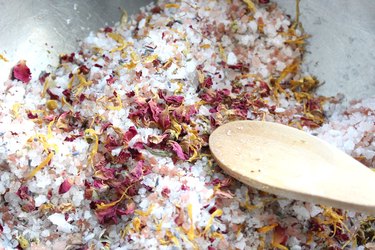 Tip
The flowers won't dissolve in the bath water with the salts, so use a strainer when you're through with your bath to collect the flowers from the surface of the water.
Step 7: Store the Bath Salts
Scoop the floral bath salts into sealable jars. This recipe makes enough to fill two 16-ounce jars so you can keep one for yourself and give one to a friend. Enjoy!