There isn't a sandwich that feels more like a royal feast than a lobster roll. The idea of making one can be a bit daunting for anyone who has never tried the task, but it's really quite simple. For those of us who would rather not wrestle a live lobster, a half a dozen lobster tails will do the trick. Simple and easy is the name of the game with this recipe–too many ingredients and the true lobster flavors are lost. Add some lettuce if you're feeling it, but keep it simple.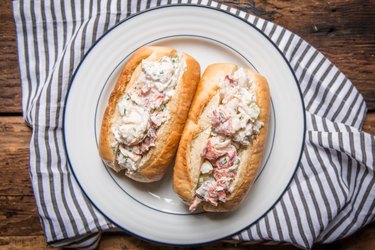 Things You'll Need
6 (3-4 oz) lobster tails

1/3 cup mayonnaise or sour cream

2 teaspoons fresh lemon juice

1 rib celery, finely chopped

2 tablespoons flat-leaf parsley, chopped

1 tablespoon chives, chopped

½ teaspoon hot sauce

½ teaspoon salt

½ teaspoon black pepper

4 split top rolls

3 tablespoons butter

Step 1: Cut the Lobster
Cut the lobster down the center lengthwise, and rinse out any vein that may be in there.
Step 2: Boil
Add the lobster to a pot of well-salted boiling water. Boil until the tails turn red, about 4 minutes.
Step 3: Remove the Meat
Once the lobster tails have cooled, remove the meat from the shell and chop into bite-sized pieces.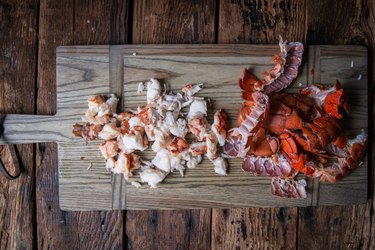 Step 4: Make the Filling
Stir together the lobster meat, mayonnaise (or sour cream), lemon juice, celery, parsley, chives, hot sauce, salt and pepper.
Step 5: Toast the Rolls
Melt the butter in a large skillet. Add the rolls, browning on both cut sides.
Tip
If you can't find traditional split-top rolls, just slice a thin section of the sides off of a hoagie roll that has not been sliced, then cut down through the top.
Step 6: Fill and Serve
Tip
Need to make this in advance? Cook the lobster, chop and keep in an airtight container in the fridge. Stir together the filling ingredients (besides the lobster) and store in separate container. Stir the lobster into the filling ingredients then add to the rolls just before serving.