Every year when the holidays roll around there are a couple of classic recipes that are a must on my holiday table. One of those favorites happens to be sweet potato casserole because it borders between a vegetable and a dessert in all the best ways. Creamy sweet potatoes topped with a crunchy pecan topping makes for one irresistible casserole that no one can ever resist!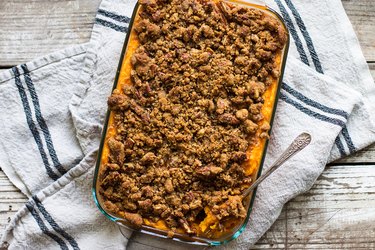 Things You'll Need
4 cups of cooked sweet potatoes, peeled and fork tender


3/4 cup of granulated sugar

1/2 cup melted butter + 5 tablespoons

2 eggs

1/3 cup of milk

1 teaspoon vanilla extract

1 cup of brown sugar


1 cup chopped pecans


1 teaspoon cinnamon

1/4 teaspoon salt

1/2 cup flour

Step 1
Preheat the oven to 350 degrees. Combine sweet potatoes with granulated sugar, 1/2 cup melted butter, eggs, milk and vanilla. Mix with a stand mixer or hand mixer until creamy and smooth.
Pour the sweet potato mixture into a casserole dish that has been sprayed with non-stick spray and spread evenly.
Step 2
Mix together brown sugar, cinnamon, salt, 5 tablespoons melted butter, and flour and combine with a fork until the mixture resembles wet sand.
Step 3
Spread the brown sugar pecan topping over the sweet potatoes in an even layer. Place into the oven and bake for 30 to 35 minutes until the topping is brown and toasted.
I'm telling you that just the smell of this casserole alone will have your belly growling -- it's so delicious!