It's a mashup of two decadent desserts that'll leave every guest asking for seconds. Make the whole dish in advance or prep the crust and filling first, adding the rich layer of caramel and pecans on the day you're ready to serve.
Pecan pie cheesecake includes three components: crust, filling and topping. We'll start with the crust.
Prepare the Crust
Things You'll Need
3 cups of vanilla wafer cookies

6 tablespoons butter, plus more for the pan

1 teaspoon sugar

1 pinch of salt
Melt the butter in the microwave. This should take about 30 seconds. Combine melted butter, cookies, sugar and salt into a food processor and pulse until well incorporated.
Butter a springform pan, then fill the bottom entirely with crumb mixture. Use the bottom of a measuring cup to press down firmly.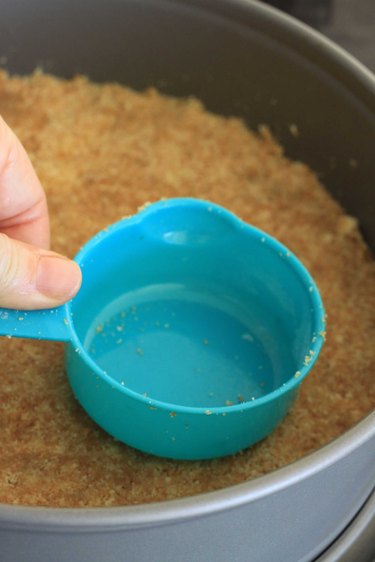 Bake at 350 degrees F for about 10 minutes, then allow to cool.
Prepare Cheesecake Filling
Things You'll Need
8-ounce packages of cream cheese, softened, (3)


1 cup Greek yogurt

1 cup sugar

6 eggs


1 teaspoon vanilla
Rinse out the food processor, then combine all ingredients until the mixture is completely smooth.
Pour on top of the cooled crust and bake for about 45 minutes at 350 degrees F. The edges should be set while the center remains slightly jiggly.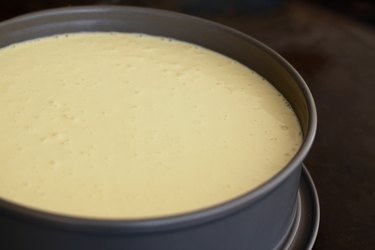 Prepare Pecan Pie Topping
Things You'll Need
1 cup sugar

1 cup cream

1 tablespoon cane syrup

1 teaspoon vanilla

1 tablespoon butter

1 cup pecans
In a medium skillet, heat sugar on medium heat. Try to distribute the sugar in a single layer but do not stir at all. Once the edges start to caramelize, give the pan a swirl until the sugar is cooked through.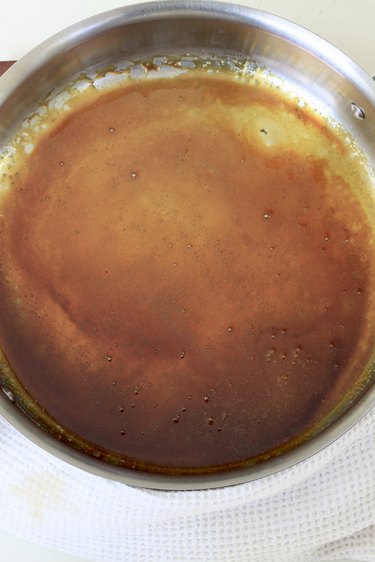 Add the remaining ingredients, and be advised that the combination will create a major boil. Stir until everything is incorporated, then add the pecans.
The mixture should be thick and sticky, ready to spread on top of your cooled cheesecake.
Pour the pecan pie mixture over the cheesecake, using a spatula to spread completely to the edges. Cool for at least 2 hours, or overnight.
To serve, run a knife around the inside edge of your pan before unlocking the spring. Arrange on a platter and cut with a large, sharp knife.