Now you can get your thin mint cookies fix any time of year! All it takes is a few simple ingredients to create a copycat version at home.
Things You'll Need
3/4 cup butter, softened to room temperature

1 cup granulated sugar

1 teaspoon pure vanilla extract

One egg

1/2 teaspoon peppermint extract, divided

1 1/2 cups all-purpose flour

3/4 cup unsweetened cocoa powder

1 teaspoon baking powder

1/2 teaspoon salt

14 ounces good quality chocolate

1/2 teaspoon canola oil
Tip
Use any varieties of chocolate that you like — milk or dark — or mix more than one.
Step 1: Cream Butter and Sugar
Using a standing mixture with a paddle attachment, cream butter until fluffy, about 2 minutes. Add sugar and continue mixing on medium speed for another 2 minutes.
Step 2: Mix Cocoa
In a large mixing bowl, whisk together the cocoa powder, flour, baking powder and salt.
Step 3: Combine Butter and Cocoa
To the butter mixture, add your vanilla, egg and 1/4 teaspoon of peppermint extract and mix on medium speed until combined. Then incorporate the cocoa mixture a little at a time, mixing on low speed.
Step 4: Roll and Chill
Divide your dough into two balls. Working with one ball at a time, roll out the dough in between 2 sheets of parchment paper, about 1/4 inch thick.
Chill in the refrigerator for 1 hour.
Step 5: Cut Circles
Once both sheets of dough have been chilled, cut circles with a 2-inch cookie cutter.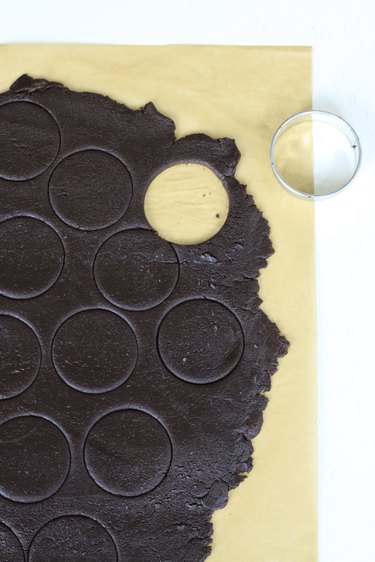 Step 6: Bake
Bake on a parchment lined baking sheet at 350 F for 8 minutes. Cool completely on a wire rack before moving on to the next step.
Step 7: Create Chocolate Dipping Sauce
Break up your chocolate into small pieces and microwave in 15 second intervals until it melts completely, about 1 minute total.
Add canola oil and remaining peppermint extract, mixing thoroughly.
Step 8: Dip Cookies in Chocolate
Use a fork to dip each cookie in chocolate, wiping off the excess on the side of your bowl.
Step 9: Cool and Serve
Refrigerate for at least one hour before serving. After cooling completely, Thin Mint Cookies store best in the freezer, inside a zip-top bag.