Gray is a cool color that's "hot" in modern interior design but timeless enough to outlast trends. It's a relaxing, spa-like hue in all its many varying shades and intensities, and lends itself easily to a strictly modern aesthetic, a spare Zen retreat or warmer, more feminine decor. Choose a gray stone or tile floor treatment and play off the tones to build a sophisticated bathroom around it.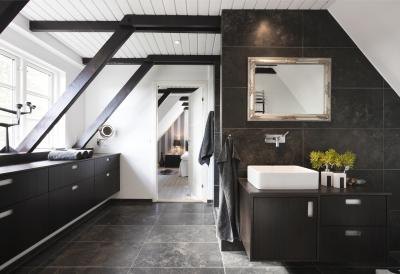 (JensBarslund/iStock/Getty Images)
A slate or dark soapstone countertop, medium-gray tile backsplash, dove-gray walls and lots of frameless mirrors combine for a low-key modern approach to designing a bathroom that still packs plenty of punch. The strong, hard textures of the glass, stone and tile, as well as the polished surfaces, give off an industrial vibe with lots of light reflected around the room to offset more of the dark stone paving the floor. Keep the same shade of tile for the shower stall; use light gray porcelain fixtures, and add a warming towel bar with fluffy pewter bath towels.
Floors covered in nearly white gray-veined marble that climbs halfway up the wall give way to an oversize frameless glass-walled shower. The upper walls are white with a hint of gray, and the window trim is barely a shade darker and matches the towels. A large travertine marble sink surround and contemporary angled, rather than rounded, fixtures make this an enduring design that belongs to the future, not to the past. If your home is unabashedly modern, accommodating grays, rich natural stone and geometric angled shapes won't look dated anytime soon.
You're stuck with a hopelessly small bathroom, a narrow sliver of space with no room for expansion. The fixtures are standard white porcelain. It looks dated and dull, and is no bigger than a closet. Park a storm cloud of grays in that space and spruce it up so all you notice is its sophistication, not its size. A warmer light-gray paint on the upper walls and ceiling prevents the design from looking cold and clinical. Cover the floors, bath and shower area, and the lower third of the walls in large, square, charcoal-gray tiles with sealed white grouting. Now you've set up your game board -- don't clutter it. Add only a dulled chrome-framed glass shower surround and a slender tile-covered platform that holds a half-moon crescent of brushed aluminum sink, like a bowl sitting on a ledge. Add a chrome or brushed aluminum rack over the shower for neatly folded towels.
Not all gray is relentlessly modern, and your gray bathroom doesn't have to be. Gray-and-white penny tile floors can handle vintage styles. Paint floor-to-ceiling beadboard in sunny seagull-gray milk paint for a durable, flat finish. A turned-leg table with a gray-veined white marble surround and backsplash holds the sink and shiny, polished nickel, old-fashioned faucet. The table legs and base are painted the same warm color as the wood-framed mirror above the sink -- creamy yellowed vanilla. A decorative molding ledge along the bottom of the mirror frame can hold a small green plant or a glass cylinder with cut flowers. More polished nickel covers wall-mounted towel rings and hooks, and accessories like toothbrush and soap holders. Frosted vanilla glass sconces on nickel bases light the sink area; the clawfoot tub has nickel-plated feet. Polished-cotton flowered curtains -- vanilla and yellow flowers against a backdrop of white and gray stripes -- match the ceiling-mounted shower curtain that encircles the tub.
Promoted By Zergnet