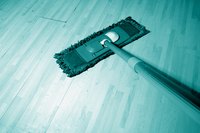 Well-run janitorial services make big bucks. Dave Wohlert, owner of Brothers Commercial Cleaning since 1998 has a customer base worth a $500,00 a year. He acknowledges the one thing that rivals providing clients with excellent service is actively selling your services. Companies hire a janitorial service to keep their premises tidy. They choose a service based on affordability, services provided, the quality of the work and who comes to mind when they need a cleaning company.
Things You'll Need
Create brochures and flyers as well as business cards for the company. Highlight specific information listing specialized cleaning services you offer such as carpet cleaning, washing windows or let clients know if your cleaning products are environmentally friendly.
Mail brochures to large office buildings and hotels and offer them a free bid. Just as attrition happens with employees, good cleaning services come and go, says Robert Jack Kravitz, author of The Janitorial Contractors Bible. Provide smaller businesses in the local area with flyers and let them know you provide free bids to keep your business flush with potential customers.
Watch for new businesses opening in the area. Make it a point to stop in and introduce yourself--and your excellent janitorial service. Leave a brochure or flyer and business card or encourage them to sign up for a free estimate.
Build a company website for higher visibility. Consider having a web designer create the website for you to achieve a polished, professional look. A janitorial service can't afford to create an unpolished, untidy image. A cluttered, unprofessional site gives potential consumers the wrong image.
Ask for referrals from satisfied clients. Business owners love networking and letting associates in on a good find. Regularly contact your existing clients to head-off any potential problems. Ask them if they know a business owner who needs a janitorial service. Offer existing clients a free cleaning for each new contract they help you obtain. This gives them more incentive to recommend your services.