Galley kitchens typically can be found in apartments, condos, townhouses and smaller homes. In a galley kitchen two counters run parallel to each other with appliances spaced along them. One of the great advantages of a galley kitchen is that a cook can turn from one counter to the other without walking any distance. One distinct disadvantage is the limited floor space makes it difficult for more than one person at a time to use the kitchen. Generally, galley kitchens have no room for a table and chairs and storage space is at a premium. Try these ideas to remodel a galley style kitchen that is efficient and modern.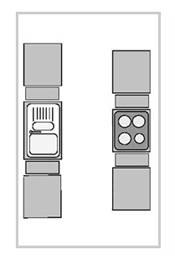 (Ebuild, Shelves That Slide, Calfinder)
Things You'll Need
Micro/hood fan combo
Under-counter refrigerator
Tall cabinets
Trash compactor
Garbage disposal
Recycling bin
Pull-out shelves
Under cabinet lighting
Tile
View Item Details
Step 1
Maximize counter and cupboard space by replacing a standard refrigerator with under-counter refrigerator and freezer units. The average two-door models offer about 6 cubic feet of storage.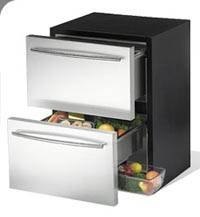 Step 2
Install ceiling height cabinets over both countertops. Use glass-fronted cabinets on one side to create the illusion of more space. Choose a light-colored wood to enhance the sense of space.

Step 3
Keep countertops clear by purchasing a built-in microwave/hood fan combination for above the stove.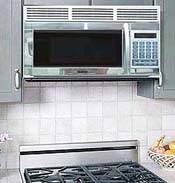 Step 4
Eliminate the need for a free-standing garbage can by installing a trash compactor under the counter, and a garbage disposal in the sink. Hang a recycling bin on the inside of the door under the sink.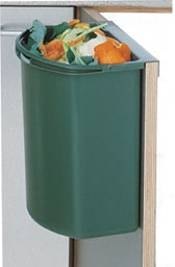 Step 5
Create a pantry with pull-out shelves hidden behind cabinet doors. Store spices in one of the drawers to keep countertops clear.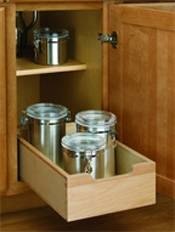 Step 6
Install lights under the cabinets for a dramatic, modern look that adds illumination to your workspace.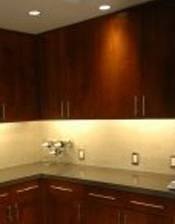 Step 7
Use the same tile over both back splashes. A solid color that matches or complements the floor covering will create a unified look in the room.
Tips & Warnings
Put small appliances away when they're not in use.
Promoted By Zergnet