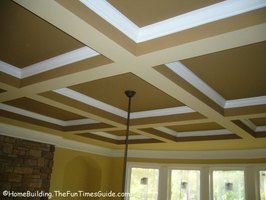 Ceilings can be tricky, especially in older homes. The challenge lies in the room design. Some old structures will experience some settling that may make the ceiling a bit out of square. By laying out the new ceiling with new lumber, time and material can be saved.
Things You'll Need
2"x4" inch lumber

2"x4" inch joist hangers

"L" brackets

Skill saw

Screw gun
Deck screws

Measuring tape

Framing square

Pencil
Measure room to determine how many 2"x4"s to purchase. Next, secure the 2"x4"s to the existing walls where the ceiling and the wall meet. These will be horizontal and will travel the perimeter of the room.

Secure the 2"X4" joist hangers as close as needed for the desired ceiling down one wall only. Secure the remaining joist hangers as the new joists go up.

Where ever possible, secure the new ceiling joists to the old ones with the "L" brackets. This step is vital as it gives strength to the new ceiling joists.

Drop any ceiling light fixtures, A/C registers, ceiling fans, etc. to the new ceiling surface.

Install the new ceiling material and hook up the items in Step 4.
Tips & Warnings
Always wear safety glasses.
Be sure to offset the new ceiling joist from the existing only enough to secure them accordingly.
Use as many "L" brackets as needed to support the weight of the new ceiling.
Variations of this include using 1"x4" inch lumber on 12 inch centers running perpendicular to the existing ceiling joists. This is great for ceiling tiles.
This is not advisable on a room larger than the lengths of the lumber.
Photo Credit http://homebuilding.thefuntimesguide.com/images/blogs/coffered_ceiling_constructed_of_mdf_and_wood_trim.JPG
Promoted By Zergnet