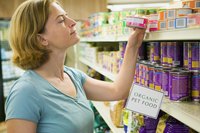 A gondola is a type of shelving unit used in retail spaces like stores and supermarkets. It's free standing; unlike fixed wall shelving, it can be taken apart and moved to suit changing floor plans
Shape Varieties
Gondolas come in a variety of shapes and sizes. The standard unit consists of a base shelf with vertical tracks. Other fixtures, like separate shelving, latch into the tracks, so that the space can be customized. The shape of a gondola will be dictated by the product being sold and its eventual placement space. Clothing requires different fixtures than packaged goods. Perishable food requires a separate style of gondola that provides refrigeration.
Product Arrangement
Once it's put together, a gondola needs to be organized neatly. If a promotion consists of only one product, shelves or hooks should be loaded neatly. Messy displays turn customers off, which will leave the merchandise unsold.
Organize
When using a gondola as a special feature, and not a standard store shelf, organize by theme. Group similar merchandise together. It makes no sense to pair a car seat cover display with a gondola of toys intended young children. For example, a customer who comes to a store looking for power tools will not likely buy exotic cat toys on impulse.