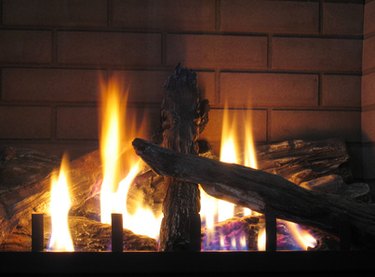 External air intakes are used to bolster a fireplace's supply of air. Fireplaces, especially wood burning fireplaces, can consume a large amount of oxygen in a short amount of time, and the normal vents traditionally installed are not always enough to supply the needed oxygen. When the fireplace runs out of air, it begins to create vacuums, and usually smoke ends up pouring back into the house. An external air intake solves this problem by giving the fireplace another source of fresh air.
Air Intake Arrangement
First, you will need to choose what type of external air intake (also known as a cold air intake or a fresh air intake) you want to install. This depends on where your fireplace is located and what set-up will best work for you. Some cold air intakes connect directly to the fireplace chimney or venting system, while some attach directly to the fireplace hood. If your fireplace is near an external wall, or if the chimney is nearest to a wall, then this will probably be the most unobtrusive method of installing the intake pipe.
Other intake pipes simply connect from the outdoors to the floor beside the fireplace, introducing enough fresh air into the system to disrupt any vacuum conditions and keep the fireplace burning well. If you do not like the idea of simply channeling fresh air onto your floor (a scenario that works best for basements), then you can construct a simple metal and mesh box on a concrete floor that the pipe feeds into. The cold air will then leak out into the area by the fireplace. If you dislike the idea of attaching the air intake to the outer wall at all, you might consider setting up a system that takes air from the air conditioning system instead.
Installing the External Air Intake
Start by checking your local state regulations for installing external air intake pipes. There will most likely be a set of codes that you will need to meet in your state, possibly with some exceptions or additional requirements that other states do not share. In general, the intake duct installed on the outer wall of your house needs to be at least a foot above the grade level of the ground, and it must be covered with a 1/4-inch mesh screen and a weather hood. Your primary concern should be making sure the area around the duct is well sealed, so that it cannot leak air or moisture into the walls. You may want to hire a professional installer in order not to install the duct in a wall space already used by piping or electric wiring.
If you choose a box arrangement, you can either make a metal box by yourself, or use a five-gallon bucket with holes punched in it that allow the air to flow. Neither the box nor the bucket can be over a foot off the ground. If you choose to connect to your fireplace venting, make sure that the seals are firmly in place and that you are using fireproof coatings and metals.