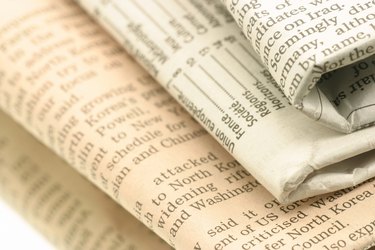 Using newspapers to insulate your windows in cold weather is a very inexpensive way of keeping cold air out while helping the environment by recycling used newspaper. This method of insulating has been done for many years, especially in low-income areas. In the summer, the same process can be used to block sunlight coming in your windows and lower room temperatures.
Insulating Windows with Newspapers
Although pasting newspapers to your windows is unsightly, it is a serviceable means of keeping cold air out when other options aren't available. Combine 1 cup of flour and enough water to make a smooth paste in a small sauce pan and bring to a boil stirring constantly. Add enough water or flour, whichever is necessary, to the mixture until you get a consistency that will stick to the newspaper without running. When the mixture is still lukewarm, brush on enough paste with a large paintbrush or wallpaper brush to saturate the sheet of newspaper. Hold the section of newspaper to the window pane covering the glass and window frame until the paper sticks. Several layers of paper can be applied but you should wait until the previous layers are sticking before adding more. If there are any large holes or cracks, take several sheets of newspaper and roll or twist them up, apply a good amount of the paste and jam it into the crack covering it with the paste. When you first begin to work on the project, lay out sheets of newspaper to catch the paste and these sheets can be applied as the last row of newspapers to the windows.
When the project is finished, brush a coating of the paste over the papers to give it one last seal. The paste will become difficult to work with as it cools so warm it over low heat as you work on the project adding more flour and water if necessary. When dry, you can rub a coating of vegetable oil over the paper, which will allow you to see shadows passing the window pane and will also allow a little light into the room. When removing the newspapers, spray them with warm water. Saturate the window and the paper will easily remove from the window. You can rub the newspaper with a large sponge or cloth saturated in warm water and this will release the paper from the paste. You can easily clean the windowpanes with window cleaner or soap and water, as the paste is easily dissolved. The same process can be used in the summer to keep sunlight out of the room, making it cooler.