Car interior wipes can be expensive and some can even leave behind lint. It's really easy to make homemade car interior cleaning wipes using a few household ingredients. They are inexpensive to make and will clean the interior of your car with ease. They will also help to repel dust and leave your car's interior smooth and clean.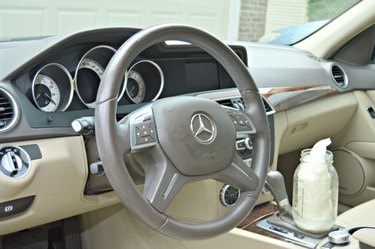 Things You'll Need
Thick paper towels

3 tablespoons almond oil

1/2 cup vinegar

3/4 cup distilled water

Optional: 2 drops peppermint essential oil


Glass jar or container
Step 1: Add all liquid ingredients to a large glass container.
Step 2: Cut a roll of thick paper towels in half.
Use a serrated knife to cut a roll of paper towels in half, then pull the cardboard roll out of the middle.
Step 3: Shake liquid mixture well.
Replace lid on jar or container and shake the liquid really well before adding the paper towels.
Step 4: Add paper towels to the liquid mixture.
Add one half of your paper towels to the jar. If you are using a large roll of paper towels, simply roll as many paper towels together as you can fit through the opening of the jar. Insert in the jar and pull the innermost paper towel up using your finger.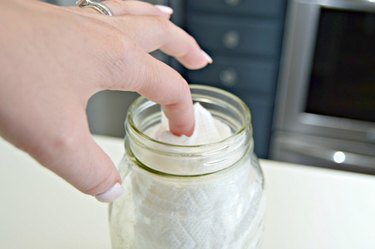 Step 5: Replace lid and shake well.
Replace the lid and shake well, making sure all of the paper towels are wet and soaked through.
Using the Homemade Wipes
To use the homemade car interior wipes, simply remove one wipe at a time from the middle, and wring it out. Wipe your car's interior using the wipes to clean up dust, dirt and spills with ease, leaving a clean scent and soft, shiny surfaces. Discard used wipes. These wipes are safe for leather seats too!