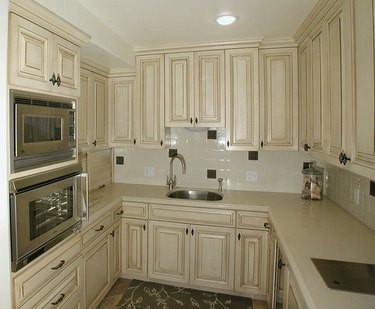 A backsplash is installed above a countertop or sink to protect the walls from stains and moisture damage. The backsplash is typically made from a water-resistant material that is easy to clean and maintain. For many homeowners, the materials and design of a backsplash are carefully chosen to complement the room's decor.
Stone
Natural stone countertops are a popular kitchen component, and many homeowners choose matching granite or marble backsplashes to complete the look. Stone is durable and strong, though it must be resealed twice a year to prevent staining. Marble tends to be more porous than granite and is more susceptible to grease and food splatters. Both of these materials are available in a wide variety of colors and styles. Choose stone tiles instead of solid sheets or slabs to save money.
Metal
Metal backsplashes made from aluminum or stainless steel can create a sleek, modern look. These materials are long-lasting, though they tend to show dents and scratches over time. Choose brushed or matte finishes to help mask surface damage. Continuous metal sheets are more expensive than metal tiles. Reclaimed tin tiles may be used in place of modern materials, and laminate products designed to resemble metal can provide the appearance of stainless steel at a fraction of the price.
Tile
Tile is typically the most affordable material used for creating backsplashes and is also one of the easiest to clean. Both ceramic and glass tile come in a wide variety of colors, shapes and designs. Homeowners can mix and match different colored tiles to create a unique look or use a small number of high-end tiles to act as a focal point.
Another option is to use smaller mosaic tiles, which tend to be colored all the way through. If these tiles are chipped or scratched, the damage is not as visible. They are often sold in sheets with a mesh backing for easy installation. The sheets can be cut to allow installers to blend different styles and colors.
Laminate
Laminate veneer panels are often used to create affordable, easy-to-clean countertops in the kitchen. Many homeowners will also use matching laminate to build a backsplash several inches high along the back of the countertop. The area above the backsplash can then be tiled or painted in complementary colors. For a unique twist on this look, consider covering the entire wall surface with a sheet of laminate, rather than using the standard 4- to 6-inch-high unit. Add a line of clear caulk between the countertop and the backsplash to ensure a watertight seal. The low price of laminate allows you to change the look of your backsplash as often as desired, or to easily replace it if it becomes stained or damaged.