When it comes to hand-washing your clothes, it's just as important to scrub and rinse them as it is to wring them out before hanging to drying. Well-wrung-out clothes dry quicker, and a good method for wringing can make the process of hand-washing easier. Because the cost of an actual, side-mounted sink wringer can be quite high, there are alternatives for making a homemade wringer.
The Mop Method
One of the easiest ways to create a wringer is to purchase a commercial mop bucket with an attached mop wringer. Mop buckets like these are available at most home-improvement stores and retail for about $60 depending on the size bucket you want. With the mop method, not only do you get the wringer but you can also use the attached bucket as your rinse pail. Simply wash your clothes, rinse them in the mop bucket and put them in the wringer basket. Press the handle to squeeze out the excess water. One nice aspect of this method is that the excess water is returned to the bucket, not wasted.
Laundry Basket Stomp
For a really cheap wringing method, all you will need is two small, circular plastic laundry baskets and a drill. Make several half-inch holes in the bottom of both baskets. To wring out your clothes, set them into one of the baskets with the basket either in a tub or outside. Set the other basket down on top of the clothes and press it down. If you have clean bare feet or flip-flops, you may opt to step into the second basket and use your body weight to press out the water. The water should leave the clothes out of the top and bottom holes as well as through the sides of the baskets. Just be sure to wring where you don't mind having runoff water.
The Rolling Towel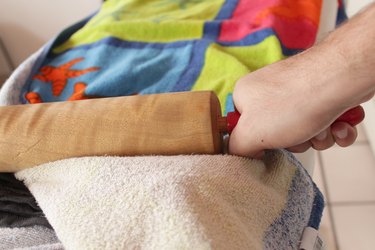 For a simple wringer made out of supplies you probably already have on hand, try the rolling towel method. For this style, you'll need to wring out only one or two items at a time instead of the entire load. Spread out a large towel on a flat area such as a deck or patio if possible. Otherwise, it may be necessary to work on a piece of spare plywood (instead of working on the bare ground).
Place the piece of clothing on half of the towel and fold the other half of the towel over to cover the clothing completely. Next run a rolling pin over the towel. As the water is pressed out of the clothes, it will be absorbed into the towel. If a rolling pin or a piece of PVC pipe is not available, then you can twist the towel up with a partner. However, hand-wringing like this can fatigue your hands and wrists quickly and is not recommended for long-term hand clothes washing.