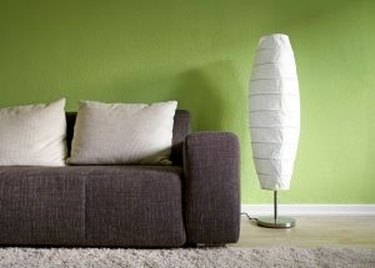 Depending on the condition of your furniture and the fabrics used, the best way to clean upholstery may be to use a spray cleaner, brush and rag, or to use a machine to deep clean the upholstery. Furniture is used for seating and relaxing on a daily basis. The traffic and use eventually leads to wear and tear. If you're noticing that your furniture is looking rather drab or dingy over time, it may be time to explore some of the best upholstery cleaning options.
Professional Cleaning
One of the advantages of calling in the professionals is the convenience of not having to do the cleaning yourself. Furthermore, many companies are using more environmentally responsible products that are safe for people and pets, so the task of finding a company that will use nontoxic, green products for your home's upholstery may be easier than it seems. Having the upholstery cleaned by the professionals will give your furniture a deep cleaning and a near-new, refreshed look. Search online or through your local phone book or newspapers for a professional furniture cleaner in your area.
Make Your Own Upholstery Cleaner
Many people choose to use basic household supplies to make different cleaning solutions, even for upholstery. Baking soda, vinegar, ammonia and essential oils are mixed together for tough, nontoxic upholstery cleaning.
To 5 cups of water, add 2/3 cup of baking soda, 1/4 cup of vinegar, 1/3 cup of ammonia and 5 drops of your favorite essential oil, such as lavender or rose. Mix well until the baking soda is dissolved. Depending on the amount of upholstery you have to clean, you can easily double or triple this mixture for now or future use.
Pour 1 cup of this mixture into a spray bottle and fill with water. Spray the upholstery with the mixture, paying attention to trouble spots. Let it set for a few minutes, then follow up with a scrub brush to loosen the trapped dirt. Be careful to make sure the scrubbing action will not damage the upholstery. Follow up with another spraying, and wipe the surface clean until the dirt is removed. This is generally recommended for light cleaning in between deep cleaning.
Deep Cleaning Your Upholstery
Many rug deep cleaners are equipped with upholstery attachments. Setting up the machine is the same as for floor cleaning; add water and cleaning solution. If your homemade solution is strained of any loose particles, it can be used in the machine, as well.
Once the machine is ready, first pre-treat the upholstery by spraying it with the upholstery cleaner. Next use a scrub brush to loosen up the dirt. Some may prefer to skip the scrub brush and just use the machine. Well, using the scrub brush will save both electricity and your upholstery cleaner solution. After the pre-treatment, use the upholstery attachments to pull up the dirt and deep clean the upholstery.