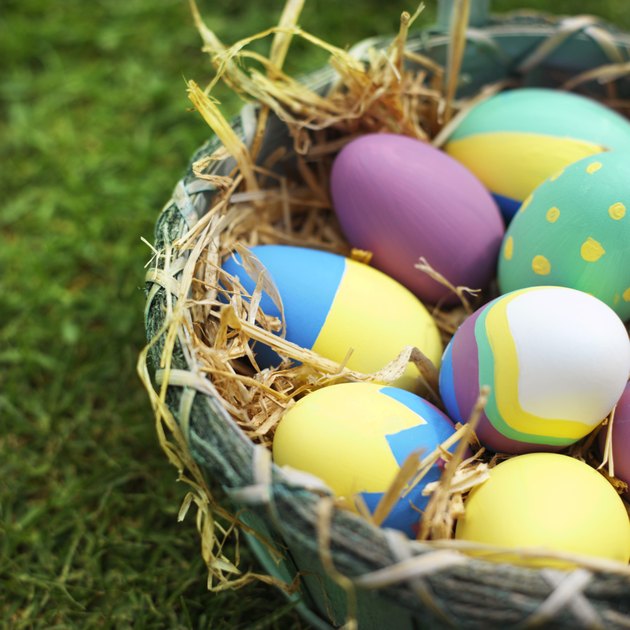 1 of 16
Overview
The annual tradition of coloring Easter eggs doesn't have to be traditional. If simply rolling the delicate oval in a bowl of store-bought dye has become mundane, try some new techniques to mix it up and craft eggs that will be too pretty to eat or remain hidden under a bush.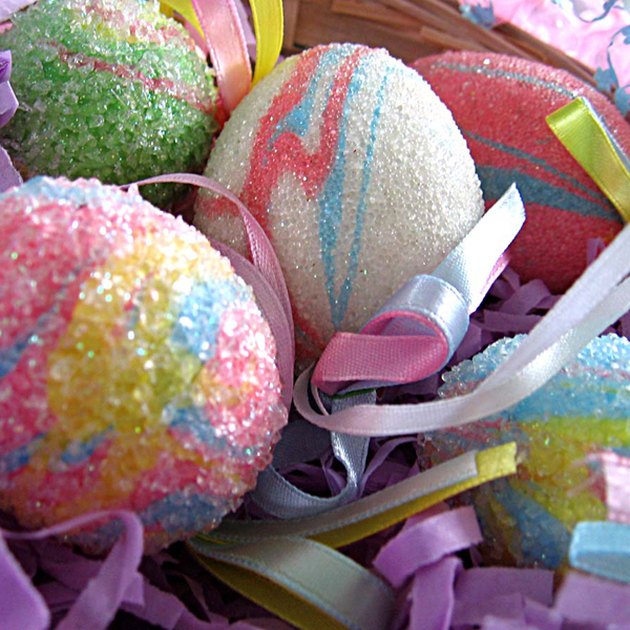 2 of 16
Glitter Glam
If you really want to make those eggs stand out, make them sparkle. Color the eggs as usual and let them dry. Paint half the egg with craft glue and sprinkle with glitter or gently roll the glue side in glitter. When dry, do the same to the other half. To intensify the shade, use glitter that's the same color as the egg.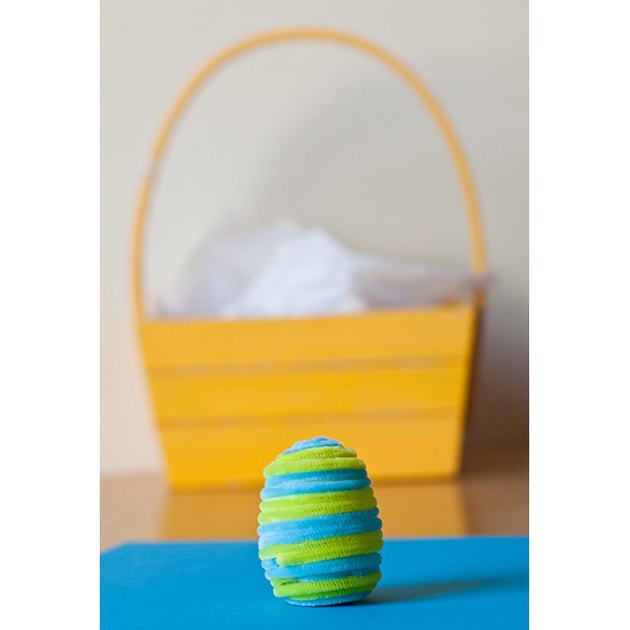 3 of 16
Warm and Fuzzy
If warm and fuzzy is more your style, try this simple pipe cleaner trick. Anchor a pipe cleaner to the bottom of the egg with a dab of hot glue, and then twirl the pipe cleaner to create a spiral. Add another dab of hot glue every revolution or two as well as to start each new pipe cleaner. Use all one color or alternate two--or more—colors.
4 of 16
Role Play
Look to your favorite characters for inspiration and create distinctive pieces that would make any entertainment buff stand and applaud. Those with super skills and a delicate touch can try this with real eggs, but others may want to use substitutes. Sherezada Windham-Kent, a San Francisco crafter and filmmaker, made these familiar faces with well-placed paint brushed onto paper mache eggs.
Related: Get more crafty ideas from Sherezada Windham-Kent here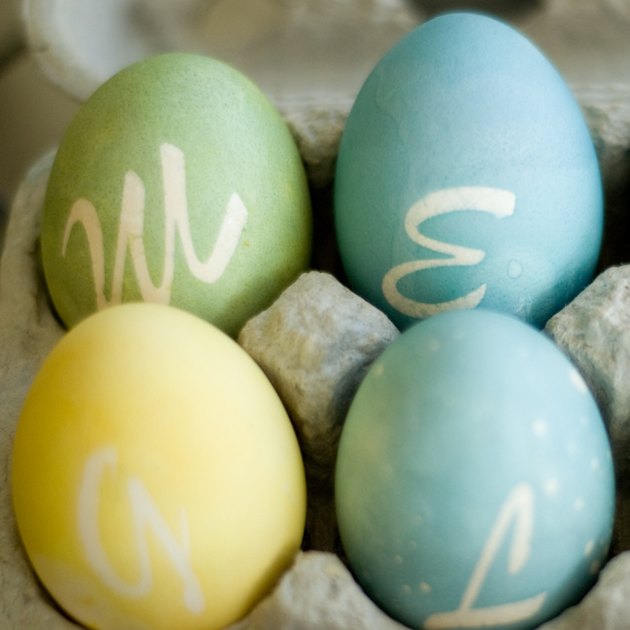 5 of 16
Make It Personal
Put your signature on your eggs with the wax-resist technique. Take a white crayon and write your initials or name on the egg before dyeing. The wax resists the color, creating a see-through pattern that follows the crayon design. For a multi-colored layered effect, dye the egg first and let dry. Then, draw with the crayon and dip again into a different color.
6 of 16
Blooming Luck
Have some old silk flowers gathering dust in the craft closet? Cut them apart and glue small blossoms to clean, dry eggs. Voila! Spring has sprung.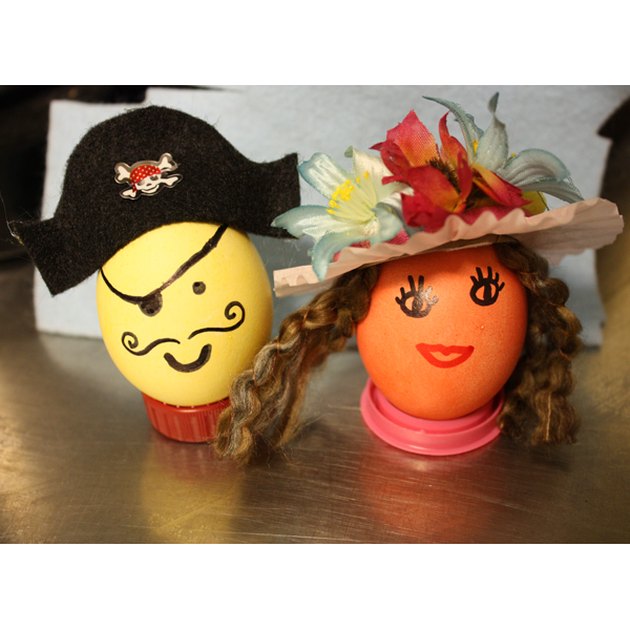 7 of 16
Costumes
It may not be Halloween, but that doesn't mean your eggs can't play dress-up. Give them their own personalities with costumes constructed from bits and pieces from the craft store or leftovers from your last project. A permanent marker makes drawing faces easy, and fabric pieces, stickers and silk flowers are fashionable headgear waiting to happen.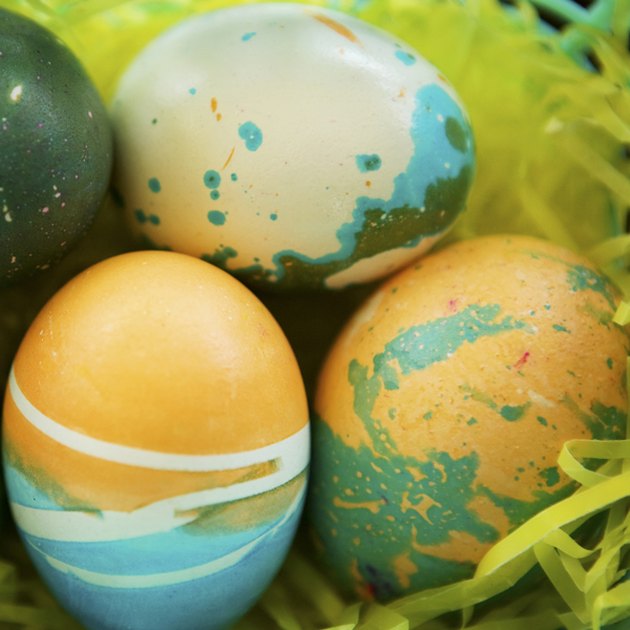 8 of 16
Swirls and Whirls
Give your eggs the Jackson Pollock treatment with this nod to abstract expressionism. Place the egg in an egg holder and use a spray bottle filled with water to mist the top of the egg, suggests Wisconsin-based blogger Amanda Formaro. Squeeze a drop of food coloring onto the top of the egg, and holding the water bottle at a distance, mist the top again. Repeat with multiple colors and mist or blow on the egg to create the desired effect. Formaro also wraps rubber bands around an egg before dyeing and removes when dry, for a see-through swirl effect.
9 of 16
Fabric Fun
At last, a use for all those adorable fabric remnants! Cut fabric into thin strips, long enough to wrap once around the length of the egg. Generously apply glue to both the egg and the fabric strip with a paint brush. Use a papier-mache technique to properly secure the fabric strip, glazing over the fabric with glue if necessary. Repeat until the entire egg is covered, then let dry.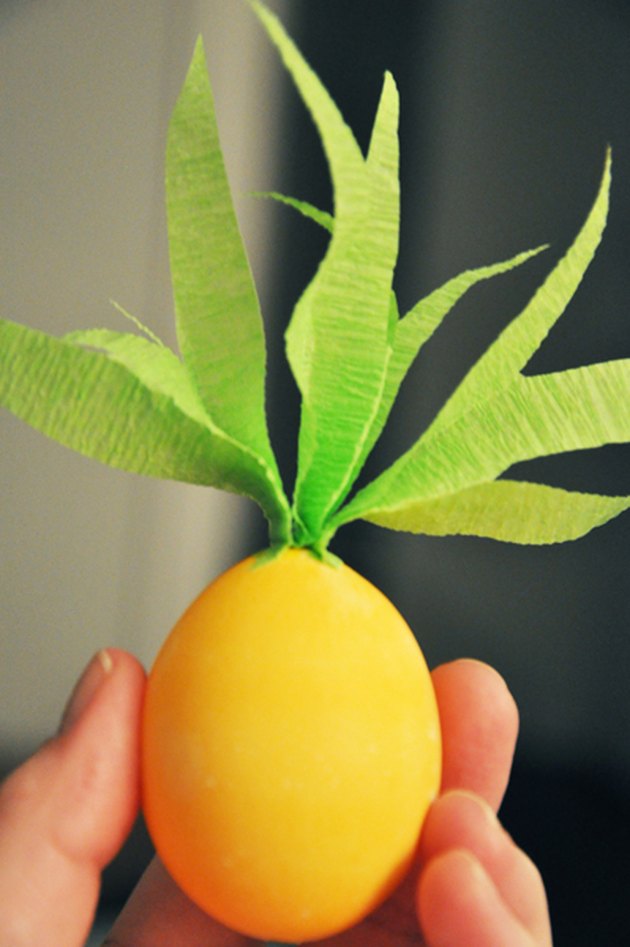 10 of 16
Carrot-Egg
Turn a basic egg into the perfect bunny companion. Dye the egg and let dry. Then, secure green tissue, crepe paper, or curling ribbon to the top of the egg with a dab of glue to make the green carrot top. Who says an egg can't be a veggie every now and then?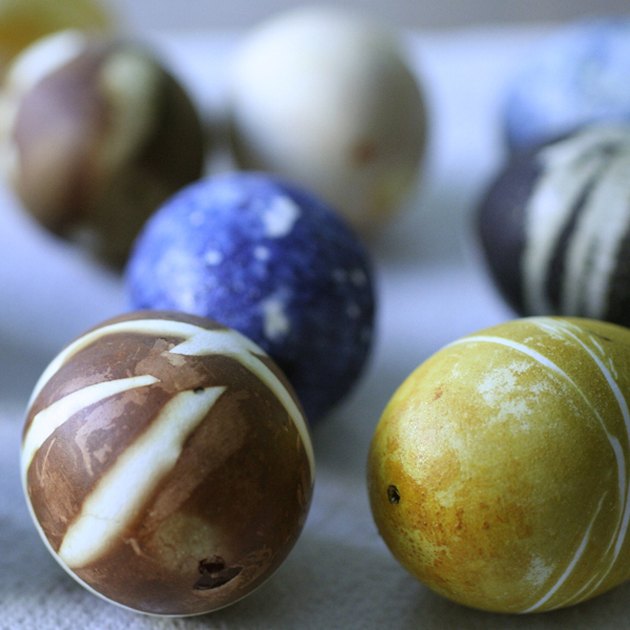 11 of 16
Marble Appeal
Stir a few teaspoons of vegetable oil into the dye and get the color moving in a circular motion. Then, remove the spoon and dip the egg into the swirl for several seconds and remove. For a relief effect, place stickers, stencils or tape on the shell before dyeing. For extra shine, when dry, polish with a dab of vegetable oil. Seattle-based graphic designer Luz Bratcher made her dyes from natural materials like coffee, turmeric and blueberries, and let these eggs dry for eight hours.
12 of 16
Disco Fever
With rhinestone stickers, you can make super-sparkly eggs in a twinkling. Simply cut the stickers into strips and apply to a clean, dry egg.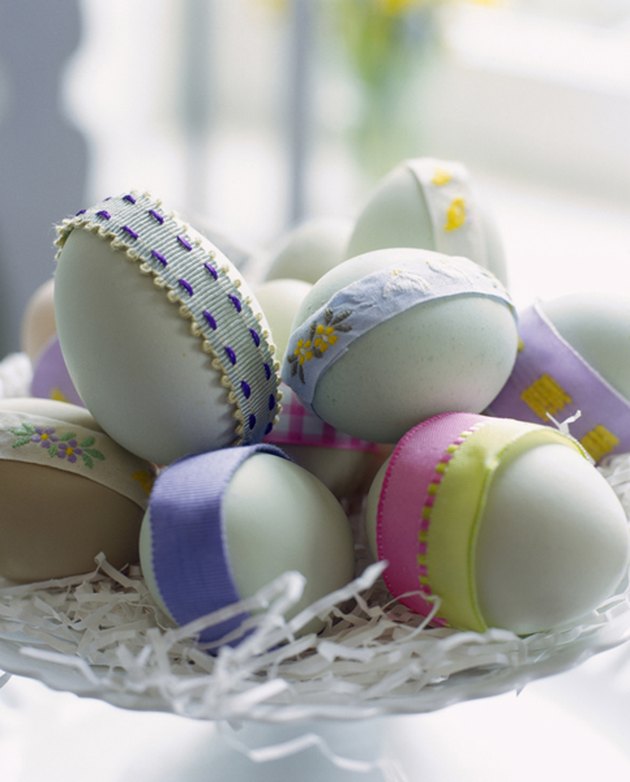 13 of 16
Ribbon Wrap
Want to avoid messy dyes and food coloring? Embellishing your eggs with cute and fancy ribbons is a quick and relatively no-mess method that requires less drying and clean-up time. Head to the fabric store and grab a few pieces of ribbon or trim and secure around the egg with craft glue. It's perfect for both white and brown eggs.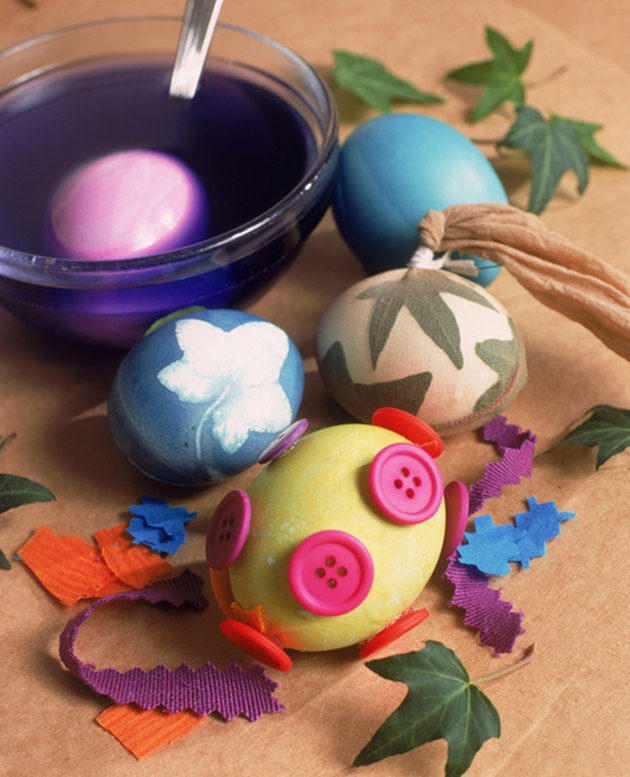 14 of 16
Everyday Props
An egg can be a canvas for your own unique designs using art tools made from items around the house. Make stencils out of waterproof tape, such as vinyl or masking. For a nature theme, lay a leaf onto your egg, wrap it securely in a nylon stocking and dip it into the dye. Remove, then carefully cut the nylon to release the egg, and gently peel off the leaf. Or, make decorating a single-step process by gluing on colorful buttons or affixing vibrant and glittery stickers to a naked egg.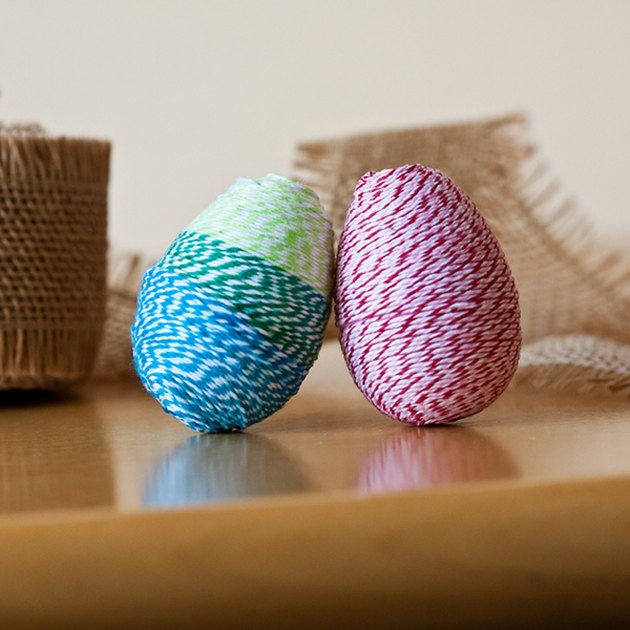 15 of 16
Baker's Twine Design
Swirl baker's twine around your eggs for a colorful effect. Glue the end of the twine to the top of your egg, letting it dry completely. Use a paint brush to apply glue to the egg, slowly wrapping the twine around toward the middle of the egg. Stop at the widest part of the egg, securing the loose end with more glue. Once dry, repeat the process at the bottom of the egg, wrapping your way up toward the middle. Try making patterns with different shades of baker's twine.
16 of 16
Super Sized
Even the youngest child or the most time-pressed parent can pull off special effects with the right supplies. A quick twist of a jumbo pipe cleaner forms a nest for an egg decorated with a jumbo felt sticker. Big fun in almost no time at all.