1 of 8
Soups are a great way to warm up when the weather gets cold, and they're surprisingly easy to make. The basic building block to a soup is the broth, which you can make by simmering meat or vegetables and water. With the addition of different ingredients and flavors, soups are some of the most versatile dishes around, said Chef James Peterson, author of "Splendid Soups: Recipes and Master Techniques for Making the World's Best Soups."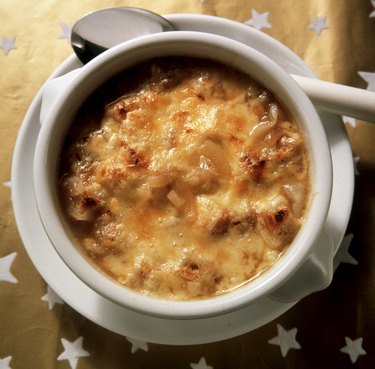 2 of 8
Peterson likes to give the classic French onion soup a boost by using turkey stock instead of traditional beef stock. It's also a great way to use the turkey carcass left over from holiday meals. Brown slices onions with butter, adds broth, cooks the blended ingredients, adds more broth and simmers. Ladle the stock into a bowl, add cheese, a piece of toast and more cheese and bake at 400 degrees until the cheese browns.
Image Credit:

Eising/Photodisc/Getty Images
3 of 8
Slow-cooked vegetables make perfect soup. Take whatever vegetables you have available -- such as cabbage, onion, celery, carrots, kale, potatoes, sliced pepper and spinach -- and simmer with chicken broth. Add each vegetable to the stock according to its cooking time. The denser the vegetable the longer it takes to cook, so begin with carrots and cabbage and then add faster-cooking vegetables such as spinach. You can also add beans and pasta. Serve with crusty bread and a dollop of pistou -- a sauce of garlic, basil and olive oil.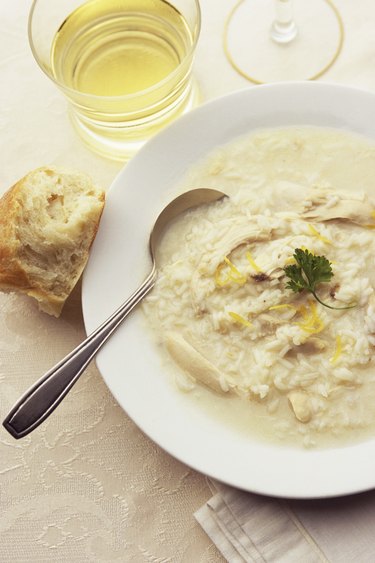 4 of 8
This delicious Greek soup is made with eggs and lemon, which is how it gets its name in Greek. Whisk together one quart of broth, finely chopped parsley, the juice from three lemons, two beaten eggs and rice, then simmer on the stove. Make sure that the eggs do not curdle, Peterson advises.
5 of 8
Simmer clams with fish broth, water and a bundle of herbs. When the clams open, remove them with a slotted spoon and strain the liquid to catch any fine particles. Add to the liquid some bacon, onions, creamed potatoes, the clams, salt and pepper. At the end add heavy cream, parsley and chives.
Image Credit:

Alexandra Grablewski/Lifesize/Getty Images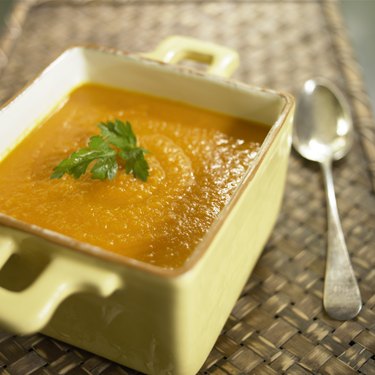 6 of 8
Roast the squash to make it easy to remove its skin, cut it into pieces and place in a pot with broth, cream and herbs. Simmer and then strain the soup to remove the pulp, or use a hand mixer to puree the squash. Finish with some cream.
7 of 8
To make the simplest tomato soup, chop fresh tomatoes very finely and season with salt and pepper. "There is so much liquid that is created when you add salt to a tomato," Peterson said. There is no need to add broth or to puree the tomatoes if you've chopped them finely, Peterson says. Serve the soup cold or simmer with cream and rendered bacon cubes.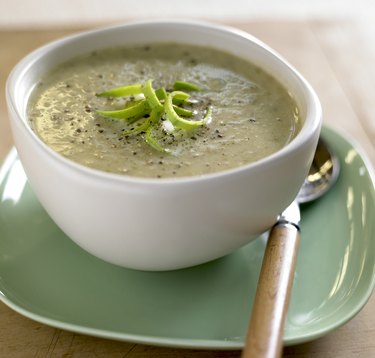 8 of 8
Cut potatoes and slice leeks, then simmer in a pot with water for about 20 minutes until they are soft. Puree the soup and add cream and butter. This soup can change character with the addition of any other vegetable to the simmering pot. Try adding frozen peas, broccoli, carrots, sorrel or spinach, Peterson said. Serve with crusty French bread and a dollop of cream or butter.