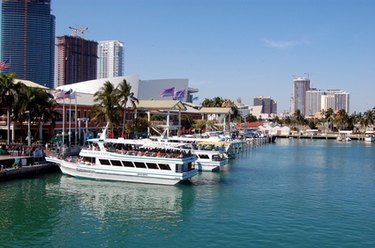 Class H roofing shingles are asphalt shingles that have been test-proven by the American Society for Testing and Materials to be highly resistant to uplift in extreme wind conditions. Based on these tests, the Asphalt Roofers Manufacturers Association has rated Class H shingles as being resistant to wind gusts from 120 to 150 miles per hour (mph). Industry standards render them useful in areas prone to hurricanes and in similar high-wind zones.
Camelot
Camelot asphalt roof shingles can withstand wind assaults of up to 130 mph without detaching from underlying shingles. Their staying power is achieved with two rows of strong adhesive. They are sold with stain protection and a 10-year warranty. Specific to Camelot construction, these Class H shingles are made with two layers of granules that reflect light and block damaging ultraviolet sunrays, protecting the shingles from color fade out. Two core layers prevent shingle splitting and cracking under harsh conditions and heavy weight.
Ondura
Ondura asphalt shingles can withstand wind gusts of up to 125 mph. Made for do-it-yourself installation these shingles only weigh 18 lb. each and are void of sharp edges for safe, easy handling. They are marketed for both residential and rugged commercial use. The manufacturer brochure shows their use by major commercial chains like Domino's Pizza and Pizza Hut. In addition, these shingles are advertised as ideal for farm structures. They do not corrode like metal roofs and they lessen noise from rain and wind, keeping animals calm. Ondura asphalt sheets come with a lifetime limited warranty.
StormMaster LM
The Atlas Roofing Corporation is the maker of Class H StormMaster LM asphalt and fiberglass blended shingles. They are approved for coastal area use by Florida's Miami-Dade county. While paint protected from weathering damage, functionality does not lie solely with the shingles but is highly attributable to the shingles' accessories. Atlas lays waterproofing material under their shingles. Water-resistant coating materials include silicone-coated polyethylene, glass and a woven polypropylene fabric. The accompanying roofing nails are resistant to corrosion.
Landmark
Landmark Special Impact Resistant shingles are among the Class H roofing shingles available from the manufacturer, CertainTeed. In addition to being able to stay put in the face of strong winds, they have a fiberglass base that makes them resist damage from weight and impact. Installation requirements vary according to the steepness of the roof slope. They can require anywhere from 3 to 6 nails per shingle and some have an adhesive backing. These shingles come with a 50-year limited warranty against manufacturer defects.