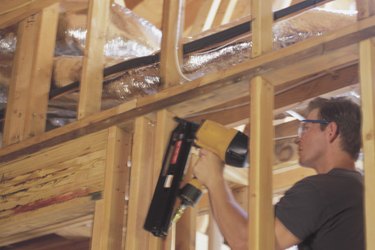 A leader in the global construction industry, Hilti is headquartered in Schaan, the principality of Liechtenstein. Evolving from a small family company, founded in 1941, the Hilti Group manufactures and markets products for industrial work such as mechanical, civil engineering, building construction, oil and gas, electrical, industrial and government, steel and metal, along with interior finishing. The Hilti TE 76-ATC model is an electrically powered rotary hammer and breaker that possesses a pneumatic hammering mechanism.
Technical Specs
The TE 76-ATC is designed for commercial and professional use. The rated power of the unit equals 1300 watts, with a nominal voltage of 120 volts and nominal current input of 13.0 amps. Running on a frequency of 50 to 60 hertz, the speed of this rotary hammer is approximately 0 to 200 revolutions per minute. Typical drilling performance in medium-hard concrete at 3/4 inch diameter equals 14.2 inches per minute; 1 inch diameter is approximately 11 1/2 inches per minute, and at 1 1/4 inch diameter a little over 7 inches per minute. Chiseling performance in the same type of concrete is just over 35 cubic inches per minute. The TE 76-ATC measures 20 inches long by 11 1/3 inches high and 4 1/2 inches wide.
Features
The TE 76-ATC falls into the electrical protection class I, which is grounded, according to Hilti USA. Equipped with a mechanical torque-limiting clutch and a lockable control switch in chiseling mode, this rotary hammer possesses infinite variable speed with electronic regulation that is independent of load. The selector switch allows for options for either full power or half power. The TE 76-ATC is also equipped with a grip and side handle with vibration absorption, a side handle able to pivot and a service indicator with a light signal. The gearing and hammering mechanism requires oil lubrication. The TE 76-ATC has drilling and chiseling modes along with a quick-change chuck and 24-way chisel-position adjustment.
Intended Uses
Making use of different drill bits and chisels provides a variety of uses for the TE 76-ATC. Breach bits, percussion core bits and hammer drill bits are used when drilling into masonry, concrete and natural stones. Use flat, shaped and pointed chisel bits when working with natural stone, concrete and masonry. Wood and metal work require wood and metal drill bits with hex or smooth shanks. The TE 76-ATC may also be used to mix non-flammable materials such as grout. For this, use a mixing tool bit with either smooth or hex shanks.