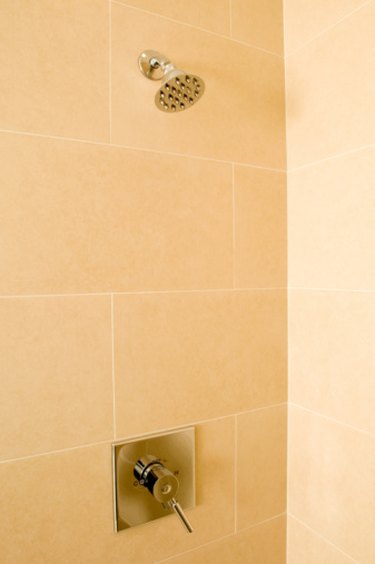 A new shower can instantly update a bathroom, and a tiled shower can offer a sophisticated, elegant look. If you are planning on building a new tiled shower, you will need certain tools and materials to ensure you get the job done right. Although your specific materials list may vary depending on the type of shower you plan to build, most projects will require a standard set of materials.
Tiles
One of the most important materials for building and tiling a shower is the tile. Tiles come in a wide variety of shapes, colors, patterns and sizes that will suit any decor. Tile can be used on just the shower walls if you are installing a prefabricated shower pan on the floor, or you can tile the entire shower area including the shower floor. Measure the interior square footage of the shower area to determine how much tile to purchase, and add about 20 to 30 percent extra tile to cover cutting waste and errors. In addition to tile, you may need tile spacers to ensure an even grout line during installation.
Cement Backer Board
Backer board is a product that is similar to drywall, but it is specially designed to support the installation of tile on shower walls and kitchen countertops. Cement board can be screwed directly over existing drywall, and it is resistant to mold growth. Cement backer board is also moisture resistant and does not warp in areas of high moisture, such as a shower.
Mortar
Mortar is a pliant paste that you spread onto the shower wall surface. Mortar is typically made from a mixture of sand, cement or lime and water. The mortar mixture spreads easily, and it dries hard like other cement products. Typically, you apply mortar to the cement backer board using the flat edge of a metal trowel, and then press the tiles into the mortar. As the mortar dries, the tiles are set into position.
Grout
Grout is similar to mortar, and it hardens as it dries. Grout is used to seal the lines between the tile sections, and it prevents moisture from penetrating to the mortar layer beneath the tile. Typically, you apply grout with a rubber or metal grout applicator.
Additional Materials
In addition, you may need clean-up materials such as a sponge and bucket to clean the haze from the surface of the tile following grouting. A level is an important tool to ensure your tiles and shower pan are installed correctly, and you will probably require a scoring or cutting tool for both the cement backer board and the tiles. A tile cutter allows you to trim the tiles to any size or dimension required for installation, and a simple utility knife is all that is required to score cement backer board.