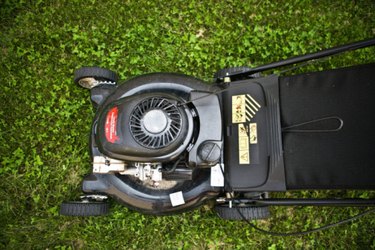 Far more companies produce lawn mowers than lawn mower engines. For a number of manufacturers, designing and producing a mower is more than enough work. Most major brands use one of a handful of engine companies to power their mowers and lawn tractors. Companies that produce mower engines fall into two camps: those that also produce lawnmowers and those that traffic exclusively in engines. There are more of the former than the latter.
Briggs and Stratton
Briggs and Stratton manufactures a number of power of products, including generators, pressure washers, mowers, lawn tractors and engines. Among the engines produced by the company are those for snow blowers, riding mowers and walk-behind mowers. The company makes nine series of push mower engines that vary in specifications, including displacement, torque, horsepower and size. Briggs and Stratton engines are used in Briggs and Stratton, Husqvarna, Craftsman and Poulan lawnmowers.
Honda
Japanese auto manufacturer Honda makes more than just cars, including lawn mower engines. The company places these engines in its own line of lawn mowers, which are designed for both personal and professional use. Honda also sells its small engines to a number of power equipment manufacturers for use in lawn mowers. Husqvarna notably uses Honda engines in six of its mowers, while Yard Man uses Honda engines in its Select series of walk-behind mowers.
Tecumseh
Tecumseh is an engine manufacturing specialist firm. The company manufacturers nothing other than engines, though they produce many models, including those for snow blowers, chainsaws and lawnmowers. The only major lawn mower produce to use Tecumseh engines is Toro. Tecumseh engines are made in all standard sizes and horsepowers, and thus can be purchased to replace faulty or dead engines of other brands. Tecumseh engines are similar in structure to other major brands of lawn mower engines and can easily be fitted into a unit.
Kohler
Kohler manufactures small engines for a number of applications, including steamrollers, tractors, riding mowers and walk-behind lawn mowers. Husqvarna uses Kohler engines in two of its walk-behind mowers, while Poulan and Toro both use Toro engines in walk-behind and riding mowers. The Kohler engines used by Husqvarna are larger than the Honda engines, with a displacement of 173 cc for Kohler versus the standard 160 cc displacement of Honda mower engines.