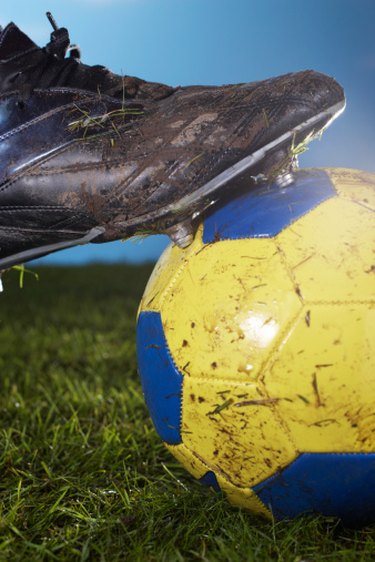 Always use proper equipment when engaging in a sports activity to prevent injury. Cleats are footwear worn for playing on artificial turf and grass surfaces. They provide traction and keep you from slipping when changing direction quickly. Although the differences between turf and grass cleats appear subtle at first, each shoe type fits specific surface conditions.
Turf Cleat Outsole
The upper and middle parts of turf and grass cleats are basically the same. These parts serve to protect the foot and provide comfort. The outsole of the shoe is what makes turf and grass cleats different. The purpose of the outsole is to adapt to various surface conditions. Since turf's conditions are generally consistent, turf cleats do not have significant gripping elements. For the most part, turf outsoles have only a slightly raised rubber pattern of knobs and bumps, evenly distributed along the entire sole, that permit you to clutch the playing field. Grass cleats, on the other hand, are mostly used on outdoor fields with less predictable conditions due to rain and ground-density variations, which require cleats with longer studs to grip the ground and avoid slippage.
Grass Cleat Outsole
Grass cleats have an outsole with several hard knobs, usually about 10, that help you grip and penetrate the grass surface to provide maximum stability on the playing surface. The knobs are made of plastic, rubber and metal, depending on the brand of cleats you choose. The knobs are just the right size to allow you to firmly grip the surface without hurting the soles of your feet.
Variations of Grass Cleat Outsoles
Grass cleats also come in several types to accommodate various field conditions, whereas turf shoes are multipurpose. You can purchase grass cleats for hard, firm or soft ground. Hard-ground cleats have smaller-sized, circular knobs, which are spread equally on the outsole. Firm-ground cleats are the most universally worn cleats in the U.S., according to My Youth Soccer Guide. They usually have mid-sized, rubber or plastic circular knobs that enable you to adjust to multiple surface conditions. Soft-ground cleats have removable knobs of a blade or circular shape that give you the freedom to prepare your cleats for changing surface conditions before each game.