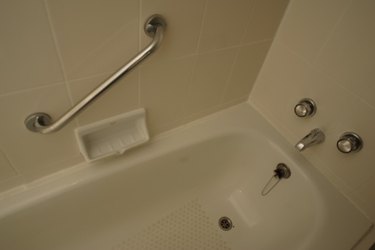 Senior citizens are at high risk for serious injuries related to bathroom falls. One-third of older adults experience a fall each year, according to the Centers for Disease Control and Prevention. Vertical, horizontal and diagonal safety bars inside the shower offer safety and peace of mind. Do-it-yourself specialists recommend several correct positions to mount grab bars in a shower. Physical and occupational therapists also are helpful when deciding which style and position works best.
Vertical
Vertical bars run up and down and typically are mounted at the entrance of the shower to stabilize a bather as he enters or exits. Vertical grips are sold in lengths ranging from 12 to 24 inches, according to the Mr. Grab Bar and Family Handyman websites. Ask the user if he has a preference of a longer or shorter bar. Regardless of the length, the bottom of this vertical rail should be 32 to 38 inches above the floor. Anchor the grab bar to a wall stud. In the absence of studs, use anchoring hardware such as toggle bolts.
Horizontal
A horizontal grab bar serves as a hand hold while a bather uses the shower. The horizontal bar accommodates personal preferences of facing forward or backward while bathing. This grab bar also doubles as a towel holder. These bars typically are sold in lengths that are in increments of 16 inches—a 16-, 32- or 48-inch bar, according to the Mr. Grab Bar website. Your first step is to find the studs that usually are 16 to 32 inches apart and behind the wall, the Family Handyman site recommends. Anchoring devices like toggle bolts will support the horizontal grab bar if studs are unavailable. The bottom of the horizontal bar should be 36 to 38 inches from the bottom of the shower, according to the Family Handyman.
Diagonal
A diagonal grab bar is angled and helps an elderly or disabled person raise and lower himself from a bath chair. This sloping bar reduces stress on the person's wrist, according to the Mr. Grab Bar site. The angle accommodates the height differences among family members, such as a petite wife and her tall husband. The length of an angled bar should match the distance between two studs; 24 inches is a common length for a diagonal grip, says the Family Handyman web site. Mount the bar so that the bottom of the railing is 18 inches above the bathtub if a bath chair will be used, according to the Family Handyman. Without a chair, hang the rail 6 to 10 inches above the top of the tub.