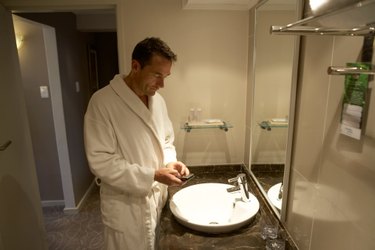 The bathroom in your home must contain a few necessary elements to be a functioning and useful part of the home. With a few decorating techniques and storage ideas, even the tiniest bathroom can incorporate everything you need to create a relaxing spa atmosphere. You can build the bathroom into a sanctuary where you can eliminate stress at the end of the day, no matter how tiny the space.
Colors
Light colors help create the illusion of space in small bathrooms. Soft pastels such as sea green, blue and pink not only make the room appear larger, they are also relaxing colors that fit in with a spa theme in your bathroom. If you prefer a contemporary look, choose neutral colors for the walls and add color with decorative touches such as towels and counter accessories.
De-Clutter
Removing some of the clutter from your bathroom counters can help eliminate the cramped feeling in the room. Consider removing shelves from the walls and storing extra towels in a hall linen closet to open up the space in a smaller bathroom. While a pedestal vanity for the bathroom sink may take up less space in the room, it does not offer the storage you might need to keep the room free of clutter. Choose a bathroom vanity with under-sink storage to sock away extra rolls of toilet tissue and bathroom cleaning supplies. A small dresser converted to a vanity provides you with drawers where you can store your cosmetics, soaps and toiletries and keep the top of the counter free and clear.
Shower Stalls
A dramatic method for creating the illusion of space in a small bathroom is to remove the bathtub and create a stand-up shower stall. Removing the tub instantly creates more space to stand when showering. Use clear glass doors to allow the eye to travel to the far side of the shower stall, which also gives the illusion of a larger room. Solid shower stall doors break up the space and can make the room feel smaller. You can also use clear shower curtains or doors in a bathroom with a bathtub to create the same illusion.
Mirrors
A large mirror over the sink can enhance the appearance of size in the room. The reflection in the mirror can capture some of the decorative elements in the room as well. For a bathroom with a low ceiling, use vertical mirrors to create the illusion of height.