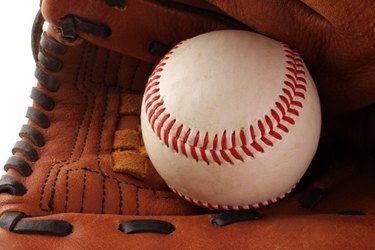 Whether the special boy in your life has a preference for a specific team or just loves sports in general, create a room that's customized just for him. With the large amount of sports themed decorations and accessories on the market today, you can find nearly anything you want. Professional teams now make furniture, bedding and accessories that work with your idea for a sports themed bedroom.
Walls and Floors
Start with the walls and the floors, which form the basis for your room. If you're worried about your boy outgrowing the theme or needing to redecorate the room in the future, opt for neutral shades that work with your accessories. Plain white or cream walls provide a neutral background, while darker shades like green and blue work well with specific teams. Add a sports themed border that circles the room and ties the wall color into the room theme. Add rugs, including generic rugs with sports images and equipment on the front, or add rugs for a specific team. The rugs hide the neutral carpet but are easily removed later when you change the theme.
Add the Right Accessories
The most important part of the sports themed bedroom is the accessories. Hang pennants and sports memorabilia on the wall. Highlight the most important piece of his collection, be it an autographed jersey or a poster of his favorite player, directly over the bed. Use one bookshelf in the room to display his collection of memorabilia, including pictures, baseballs and other knickknacks. Invest in a few older or antique pieces or find those pieces from thrift stores and make them part of the room's decor. Old footballs, pads and other pieces of equipment hung from the walls make unexpected accessories for the room. Add valances to the windows made from fabric printed with sports and sports team images.
Make the Bedding Work
Using plain bedding in the room creates a space that doesn't work with the rest of the room. Many major league teams now make sheets, pillowcases, throw pillows, throw blankets, comforters and even bed skirts that are decorated with the team logo and colors. If you're on a budget, mix and match a few of the more expensive team items with less expensive items. For example, use a New York Yankees comforter with pillows shaped like baseballs and baseball bats. Place a folded sports blanket over the end of the bed.