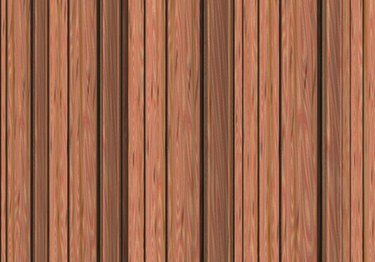 Wood paneling comes in a variety of styles and textures to enhance a room's appearance. It's now featured in raised, panel wainscoting among other modern designs, which is a far cry from the traditional brown, veneer wood paneling seen in homes built in the 1970s and early 1980s. Updated wood paneling designs have given way to new flooring options that help tie the room's décor together.
Marble Tiled Floors
For a more for formal look in a foyer or dining room, pair marble floors with wood-paneled walls. The combination provides a clean look while enhancing the look and feel of a space and making it appear larger. Pool villas at Caesar's Palace in Las Vegas feature this look. Designers chose raised wood paneling in white for the walls and traditional white marble tile with gold inlay for the floors.
Hardwood Floors
Although it may once have been a design faux pas to mix different wood finishes in a single space, that rule no longer applies. The availability of multiple wood paneling finishes has made it possible to install hardwood floors in a room with wood paneling. For example, raised wainscoting stained with a light wood finish on the walls paired with dark wood parquet floors is a complementary combination for a dining or living room. The combined woods make a space feel comfortable and warm and offer a contrast of texture that allows each element to stand out.
Berber Carpet
While some people shy away from mixing carpet with wood-paneled walls, the right carpet can complete a room's look. Homeowners who prefer carpet, especially in a basement, office or den, often pair Berber carpet with wood paneling. Berber carpet is characterized by its looped pile. Its relatively short weave is not as bulky as most conventional carpet varieties, so it's less likely to make a space feel confined and small than other carpet styles. It generally holds up to high-traffic areas. Berber carpeting is available in a variety of colors and designs to complement, not conflict with, wood-paneled walls.