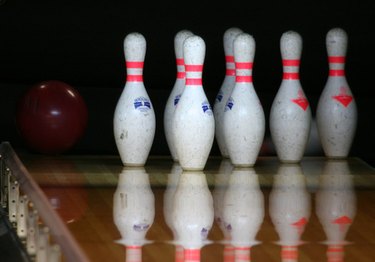 You may come across used bowling pins at yard sales, flea markets or at alleys that are going out of business. If so, buying them can lead to all sorts of interesting projects. Bowling pins can be made into creative home decor items or used to outfit a game room or sports bar. You can even transform a used bowling pin into a practical and conversation-worthy lighting solution.
Bowling Pin Santa Claus
A bowling pin's shape mimics that of a human body and can be transformed into creative characters for holiday decor or to decorate a child's room. If you are creative with acrylic pants, sponge paints and paintbrushes, a bowling pin Santa Claus can easily be created. Paint the pin red and allow it to dry before painting details on it. Use decorative items to bring your creation to life. Create a cotton ball beard or glue on a button nose and eyes. The options are endless. People also make bowling pin snowmen and angels to use as holiday decor.
Table Legs
With a simple piece of finished wood for a tabletop, bowling pins can make sturdy, decorative table legs. Simply stack the legs together to the height you want your table to be and connect the pins together with double-ended wood screws. Add felt or a piece of rubber to the bottom of each leg to protect the floor. Although the shape may give them away, bowling pins can be painted and sealed to match the tabletop or decor. If unpainted, the bowling pin table would make a nice addition to a game room or sports bar.
Bowling Pin Lamp
Have a local machine shop drill a hole through the pin's length or do it yourself with a drill press. If you do this yourself, wear safety goggles. At your local home improvement store or craft store, purchase a lamp kit, which includes a socket, cord and shade holder. You will also need a lamp shade. Run the cord through the pin, attach the plug on the other end, attach the socket and attach the shade. If you intend to paint and seal your lamp, do so after it is drilled and before applying the socket, cord and shade.