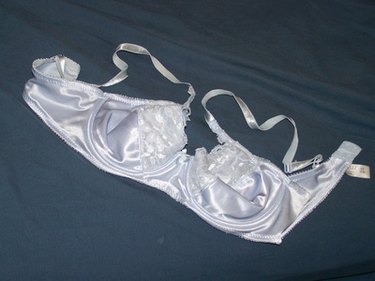 Bras are delicate garments that can easily become damaged when they are cared for using a rough wash routine as the agitation and laundry detergents you typically use while washing will cause discoloration, fraying and other damage that is not repairable. Since many bras are costly and you want to get the most use out of the bras as possible, use the right types of cleaning ingredients and the proper wash routine when cleaning your bras.
Lingerie Bags
Always place the bra in a lingerie bag before washing. Close the hooks on the back of the bra, place it in the bag and close tightly so the bra does not escape while washing. This type of mesh bag minimizes agitation and prevents the bra from getting wrapped around other garments.
Baking Soda
Use baking soda instead of bleach to brighten your bras. Baking soda is an all-natural, inexpensive cleaner that causes no damage to the bras but works just as well to brighten and remove residue. Add 1/2 cup baking soda to your normal wash cycle with a delicate laundry detergent.
White Vinegar
Eliminate bra odor by adding 1/2 cup white vinegar to the wash load along with your normal portion of delicate laundry detergent. White vinegar safely eliminates odor and kills bacteria without requiring you to use a harsh bleaching agent that will quickly deteriorate the overall quality and appearance of your bras. Bleach also has the tendency to break out sensitive skin.