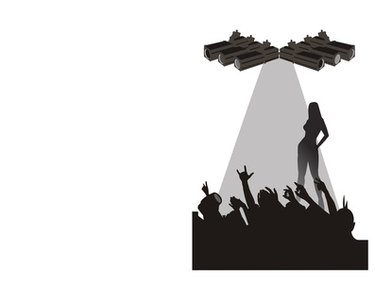 Theme parties are a creative way to liven up a party, enforce a dress code and ensure for a memorable event. If you are looking for a stylish and creative party idea, consider throwing a white-themed party. You can pick different trendy and entertaining white party themes to match a season, style or just for the enjoyment of celebration. Impress your guests by throwing a stylish and enjoyable white-themed party.
Summer White Party Theme
Celebrate the end of the summer season by throwing a party with a summer white party theme. A celebration combining a refreshing, summery atmosphere, delicious drinks and delightful delicacies eases the impact of summer's departure. A summer white party theme can also serve as the backdrop for a fundraiser held during the summer. In all cases start your event in the late afternoon, and illuminate your outdoor venue with candlelight. Scatter white candles around the party space to create the vibe associated with sultry summer nights. Decorate with white hydrangeas, roses and orchids to fill the air with the sweet scent of summer flowers. Protocol calls for guests to arrive clad in bright white linens and soft summer cotton. Welcome guests to the party with a cocktail appropriate for the white party theme, such as a vodka tonic, mojito or a glass of champagne or chardonnay. Feature lightly colored foods on the menu to match the theme and season of the party. White cheeses, hummus and quiche accompanied by a variety of breads, crackers and chips are foods appropriate for a summer white party.
White Winter Wonderland Theme
Kick off the holiday season or celebrate a special event by hosting a party with a white winter wonderland theme. Highlight the beauty and sparkle of winter with white party decorations, and add touches of silver for a bit of sparkle. Decorate your venue with glittery snowflakes, silver stars and crystal icicles. Dress tables and chairs with white linens and chair covers, and use sparkly silver organza bows to further accent your winter white theme. Set up a fake snow or bubble machine to create a vibe reminiscent of a romantic winter evening. Request your guests come to the party dressed in white and silver clothing. Greet guests with a signature winter cocktail, such as a white Russian or eggnog, and serve savory dishes like Swiss cheese fondue, cauliflower au gratin, white cheese lasagna and angel food cake for dessert. Include marshmallows on the menu, and let guests roast them over an open fire for added effect.
Fire and Ice Theme
A fire and ice party adds a flash of color to the white party theme. You can choose a fire and ice theme in celebration of Valentine's Day, for a birthday party in February or simply because you like the colors white and red. Decorate for your fire and ice party with shades of white, cream, silver and red. For a seated dinner party, set the table with white china and crystal stemware. Lay silverware on top of deep red napkins for added effect. Adorn your table with floral centerpieces featuring white and red roses. Illuminate the room with white candles to give your party a romantic feel. Serve a menu featuring tomato and mozzarella salad, lobster bisque and red velvet cupcakes with vanilla icing for dessert. Red licorice, white chocolate, marshmallows and candy canes are appropriate party favors for your fire and ice theme party.