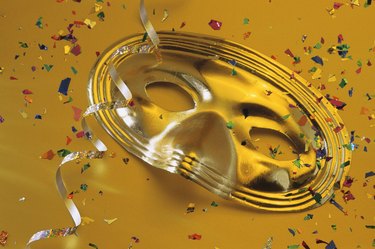 To some people, New Year's Eve is just December 31, the day before one calendar is recycled and another takes its place. To others, the day is filled with promise and the evening is filled with partying. For your New Year's Eve party, keep guests occupied until the big 10-second countdown by playing games.
Crazy Corks
Champagne is usually present at just about every New Year's Eve party, but it's usually just something to pour into a glass for that midnight celebration. Turn those cork-stuffed bottles into a game by having players compete to see how far they can shoot their corks. Distribute safety goggles and make sure other party guests are behind the players (play in an outside area or room people won't blindly walk into and risk being hit with a cork). Have players uncork their bottles and see how far their corks can go, marking them in place with a golf tee or divot. As each bottle is opened, fill guests' glasses with the new bubbly. The player whose cork travels the furthest wins a prize, such as an unopened bottle of champagne or a New Year's Eve crown.
Fire Dancers
If your New Year's Eve party is adults-only, play a game of friendly fire with fireworks dancing. Offer guests sparklers, a toned-down (though not failsafe) version of traditional firecrackers, and have partygoers create their own fire-themed dances. The National Council on Fireworks Safety advises against mixing fireworks, even sparklers, with alcohol; additionally, do not to use the products in states or cities that don't allow them (even if you drive across borders to get them or order them online). If fireworks are permitted in your area, light up the night with choreographed fire dancing Have each dancer or group perform a couple of steps before dousing out their sparklers in buckets of water placed around the "dance floor."
Not-So-Real Resolutions
Many people spend the weeks before New Year's Eve brainstorming their resolutions, ways they plan to change or improve their behavior in the coming year. While resolutions such as eating less and exercising more are important, they're not all that fun for a party. Instead, have a game where people must come up with the most outlandish and outrageous New Year's resolutions imaginable. You can give guests a jumping off point with topics such as "Resolutions to improve your appearance" or "Resolutions about work" but then let their imaginations run wild. Give them a little bit of time to work on their resolutions, and then have each partygoer attempt to crack up the crowd.