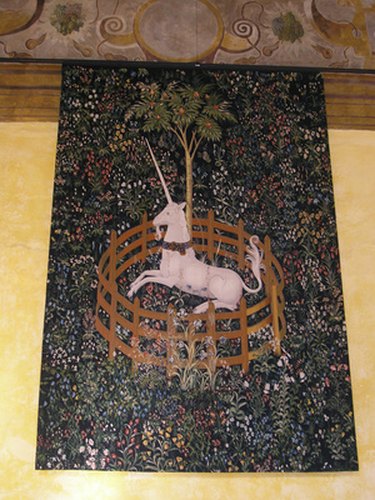 A hole in the ceiling is an eyesore. If you are not equipped to patch the hole yourself, let the hole be an opportunity for you to decorate the ceiling in a unique way. Adding decorative elements to the ceiling can provide a room with warmth and visual interest. Buy pre-made ceiling decorations, or make your own.
Ceiling Medallion
Historically, ceiling medallions were circular, plaster, rosette-like decorative elements that surrounded a hanging light and matched crown molding and other architectural elements in the building. Today, ceiling medallions are made of polystyrene foam, but still look like plaster. The foam makes ceiling medallions less expensive, lightweight and easy to install. Affix a ceiling medallion without a hanging light to cover the hole and decorate your ceiling. Buy a ceiling medallion that is larger than the hole so you have surface area for gluing. Use adhesive caulk and screws to install the medallion. Cover the screw heads with caulk and paint. Instead of buying a ceiling medallion, your can also carve your own from extruded polystyrene. Carve polystyrene using standard carving tools and sand it smooth with sandpaper.
Tapestry
A tapestry hung from the ceiling softens and enlivens a room. Tapestries of all sizes and types are available, including tapestries with plant and animal imagery, Celtic designs, Persian designs, religious icons, musical themes and modern abstract designs. Another option is to make your own tapestry by using fabric dye, fabric paint and fabric markers on lightweight fabric. Tie-dying is also a quick and easy way to create a tapestry with striking patterns.
Starry Night
Turn your ceiling into a twinkling night sky with stars. Place one star over the hole and distribute other stars throughout the room. Arrange stars of different sizes randomly, going back in forth from creating clusters to more open dispersion, and create the natural appearance of a night sky. Self-adhesive ceiling stars are available online, including glow-in-the-dark stars, or you can make your own. Choose from a variety of methods for making stars, including using chrome silver Mylar paper, gold leaf paper, paper and glow-in-the-dark paint, or paper and glitter.
Cloud
Make a sculptural cloud with a mass of paper, Styrofoam or plastic cups. Start by tacking a series of cups to the ceiling around the hole. Place the cups so they are facing straight down. One by one, hot glue additional cups to the tacked cups until your create a mass of cups in the shape of a small cloud. From a distance, and when the light hits and illuminates them, the cups will be transformed into a stunning, floating cloud.
Someone's Stuck!
Stuff a doll into the hole so that just the legs are hanging out, to turn an unsightly hole in the ceiling into a humorous statement. You can create your own legs for the hole by stuffing nylons and putting a skirt on them, or stuffing a pair of pants. Sew on a pair of old shoes to represent the feet.