Christmas is a special holiday in churches and is celebrated in many ways, with choirs to sing carols, Christmas dramas and parties for children and adults. Smaller churches may opt for a celebration that includes all ages groups. Whatever the size of the church there are many ways to make the holiday season memorable for everyone.
Churchwide Activities
Church parties for all members often have a variety of activities to include all age groups. Members divide into groups and have an indoor candy cane relay race. Players hold four candy canes and must pass them to every member on their team without dropping them. Another game is the gift wrap race. Members race against each other to wrap a present using only one hand.
Gifts
Giving and receiving gifts is an integral part of Christmas. Churches may choose the traditional method of drawing names or they can choose alternative ways to exchange gifts. The game, "Sneaky Santa", is popular. Everybody that attends the party brings a wrapped gift. All the gifts are placed on a table in the center of the room, and the people sit in a circle around the table.
Everybody draws a number for the order the gifts will be opened. If a person wants a gift that has already been opened they can "steal" it, swapping it with their own unopened present. Stipulate price limits so that gifts will be comparable.
Mission Emphasis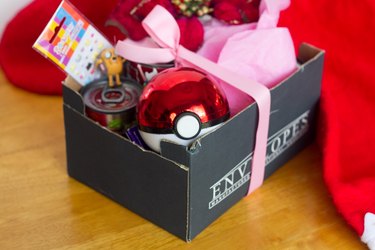 Many churches emphasize missions during the Christmas season when the concept of giving is most prevalent. When planning parties for various age groups ask each person to bring non-perishable food to donate to local food pantries or take to needy families in the community.
Shoe box ministries are also popular causes at Christmas. Churches ask their members to buy toys and clothing items to fill a shoe box. The boxes are wrapped and delivered to distribution centers for sending to poverty-stricken to regions of the country and world. Many churches have designated days or evenings for members to come together and prepare the shoe boxes.