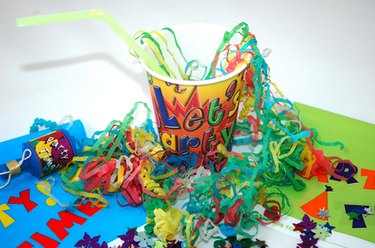 If you or a loved one is turning 60, it is certainly a time to celebrate! Just like 40, 50 or any other number ending in 0, 60 is a milestone birthday that calls for a big, happy party. There are a lot of location choices that will make your special day even more special--it all depends on what kind of party you prefer.
In Your House
For someone who enjoys a good stroll down memory lane, your own home is the perfect place to throw a 60th birthday party. Making a party in your house is an easy way to keep the guest list short because you might not be able to fit that many people and it creates a warm, cozy atmosphere for the lucky ones who do get to join.
If you are throwing the party for someone else, like a parent or spouse, take the time to plan some special surprises in advance, like a picture slide show that highlights the past sixty years. The slide show should show off major events and milestones in the birthday boy or girl's life and,of course, include close family members and friends. For a really special touch, you can set the slide show to music from the celebrant's favorite CD.
In the Park
If the party falls in the spring or summer time, the park can be a beautiful and relaxing place to host a 60th birthday party. Try to find a park with a lake for the greatest choice of activities and offer guests swimming, boating and other water activities to keep them occupied. The food can be simple picnic food or an elaborate barbeque, depending on what you prefer and what time of day you schedule the party . The park is a nice choice for a 60th birthday party because most people at that age are not looking for the excitement of a bar or club and the park provides a calm environment to spend time with the people they love the most. You can also be flexible about the schedule of events, by either packing the party full of activities, such as sports and games, or simply sitting and chatting.
In a Restaurant
For the 60th birthday celebrant who is still as vibrant and fun-loving as she was 50 years ago, host the party in a large restaurant that you can rent privately. By reserving the entire place, you allow yourself the freedom to invite as many guests as you want and you can even request your own music. This is the perfect choice for someone who doesn't mind letting the world know that she is turning 60 and who will enjoy the attention that a large crowd provides.
When you host a party for a large crowd like this, it is a good idea to choose the menu beforehand with the restaurant, rather than letting everyone order their own thing. You can also ask if you can come in early to decorate the place and whether or not they will provide a cake.