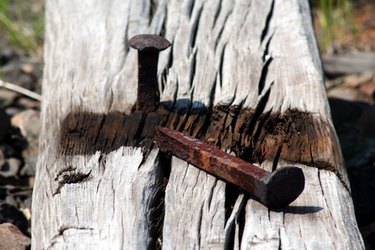 Railroad spikes resemble giant nails; they are made from metal that ends in a wedge or point. Used to fasten wooden rails to metal tracks, the spikes also can be used as parts in a number of craft projects. Whether your collection of railroad spikes is antique and rusty or shiny and new, the projects that can be done are limited only by your imagination and creativity.
Knife
Experienced metal workers with the proper tools can fashion a knife with a railroad spike. You'll need a spike that is straight. Heat the blunt end of the spike until it's hot enough to bend. Twist half of the spike with a pipe wrench to form the handle. Heat the other end and forge the metal to form the blade. Grind and polish the blade to remove any hammer marks. Add any decorations or etchings if desired, for a personalized touch.
Coat Rack
If you have a young child who loves trains or are a railroad enthusiast yourself, make a coat rack using railroad spikes for the hooks. You can either make one that mounts onto the wall or a free-standing coat tree. For a basic wall mounted one, cut a piece of wood to the length desired. Sand the board and paint a train scene on the front. Hammer the railroad spikes into the board at even intervals to form the hooks. To make a free-standing one, you can either buy a kit and put it together, using the spikes instead of the hooks that come with it, or create your own with wood.
Table Lamp
Make a table lamp using railroad spikes as the base. This craft project makes a good gift for a former engineer or a distinctive piece of home decor. Purchase a lamp kit from a home-improvement or craft store and assemble the lamp kit. Make a base for the lamp using a finished piece of wood. Hammer four railroad spikes into the base in a square to form the body of the lamp. Add the light fixture, cord and shade. You can use a plain shade or add train-themed pictures with decoupage.