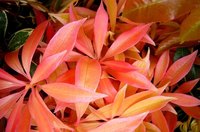 Plants that live all year long for at least successive three years are known as perennials. Although their roots remain alive, perennials can appear dead by going dormant and losing their leaves in the winter. Evergreen perennials, however, retain their winter foliage. Some also have colorful flowers or fruit in spring, summer and fall.
Adam's Needle 'Color Guard'
Although native to sandy locations across the South, Adam's needle (Yucca filamentosa) is a broadleaf evergreen plant hardy to minus 30 degrees Fahrenheit. The 'Color Guard' Adam's needle cultivar stands up to 3 feet high and wide. Its stiff, sword-like, green-edged, golden leaves have distinctive white threads curling along their edges. In spring or early summer, Color Guard has fragrant white blooms on a center stalk. Give this yucca a dry, sunny to partly shady location with light, well-drained soil.
Japanese Pieris 'Mountain Fire'
Broadleaf evergreen Japanese pieris (Pieris japonica) tolerates temperatures to minus 20 degrees F. It reaches a mature height between 9 and 12 feet. 'Mountain Fire' is a smaller cultivar. It stands from 4 to 8 feet high and up to 6 feet wide, taking more than 10 years to achieve those dimensions. Mountain Fire has dramatic spring color, with brilliant red new foliage and profuse clusters of white, bell-shaped blooms. Leaves are a deep, glossy green from summer through winter. New flower buds--also appearing in summer--remain to increase the plant's winter appeal. This plant's continuing visual interest makes it a good choice for the front of shrub borders. Plant it in a wind-protected location with fertile, acidic (pH below 6.8) well-drained soil.
Bearberry 'Big Bear'
Bearberry 'Big Bear' (Arctostaphylos uva-ursi) is a low-growing, heath family broadleaf evergreen. Reaching 6 to 12 inches high and as much as 6 feet wide, it spreads slowly by rooting where its stems touch the ground. Peeling reddish bark and glossy, deep green leaves with red winter tones add to its appeal. Big Bear is hardy to minus 50 degrees F and has drooping clusters of pinkish-white spring blooms that give way to vivid red summer berries. This perennial is happiest where summers are cool. Use it as a year-round ground cover to prevent slope erosion. An answer to those infertile, dry, acidic sandy spots where nothing else will grow, Big Bear thrives in sun and partial shade.