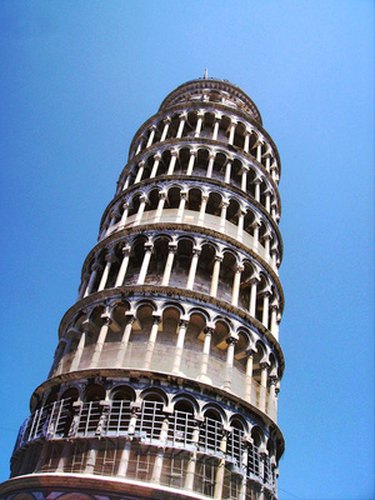 The Leaning Tower of Pisa is located in Pisa, Italy, and it stands at 187 feet high. What makes this landmark famous is that it leans, and it has been closed to the public since 1990 because of fears that it would fall. While children won't be able to climb to the top of the tower, parents can make visits to or even learning about the tower more interesting via craft projects that include creating the tower out of various materials.
Pipe Cleaners
Either cut an empty paper towel roll in half or use a toilet paper roll. Paint the roll gray. Cut the bottom off at an angle. Create a lot of 2-inch long pipe cleaners, and bend them in half. Print out a picture of the tower for children to follow the pattern. Glue a round pipe cleaner to the top and bottom of the roll. Follow the tower model, and glue bent pipe cleaners in that pattern. Follow the pattern all the way around and down. Stuff a napkin in the top. Now, stand up the tower. If it doesn't stand, glue it to a base.
Gingerbread
This project is great for the holidays. Print out a copy of the tower to follow as a model. Buy decorative candies or candy adornments to add to your tower. Make your gingerbread dough. Roll the dough so that it is thin. Create round patterns in the dough either by buying a circular dough cutter or by creating the pattern free-hand. Smooth out any rough edges. Bake the gingerbread. Line up how you plan on putting the gingerbread together. Use icing to hold each layer in place. Place a dowel or even a paper towel roll in the middle to keep the structure upright. The top layer should be slightly off-center to make it lean a bit. Add decorations to the structure. Parents should assist children with the cutting and baking process.
Clay
Use air-dry clay, and roll it until it's about an inch to an inch and a half thick. Use a picture of the Leaning Tower to create patterns on the clay. Either use a plastic knife or even the child's thumbnail to create arches and the seven tower sections. Press in clay either with a spoon or the children's thumb to make impressions under the arches. Use a different piece of clay that is only about a half an inch wide. Roll it into a circle, and press it on top of the tower. Glue the tower onto a piece of cardboard at an angle. Use other pieces of clay to create a scene on the cardboard. Children can paint the cardboard beforehand to give the scene more color. Let the craft dry for several days.