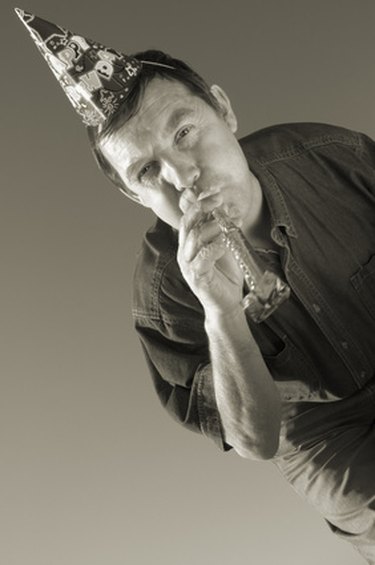 Birthday parties aren't just for kids anymore. No matter what age you are, you deserve to make your birthday special. The party can take the form of a big bash or a small, intimate gathering. If choosing the latter, it does not need to be a boring affair. Create an experience for you and your friends that they'll talk about for years.
Make It Special
To create an intimate adult birthday party, decide on something special about the party, which may take the form of a theme. Some themes for adult birthday parties include setting the party during a particular decade (i.e. roaring 20s, hippie 60s), a tea party, a steampunk party or a comic book party. An almost unlimited amount of themes exist, depending on the tastes of you and your guests. Individualize the menu by focusing on a particular culture like Greek or Mexican food. Whatever you do, make sure that the party idea you come up with is unlike any party you've ever been to.
Play Games
Instead of sitting around talking, you and your guests can play adult party games--either adult themed or more family friendly. A family friendly choice is the Movie Buff game. Arrange all guests in a circle, and one guest says the name of an actor or actress. The next person says a movie that the actor or actress was in. The third person must say an actor or actress who co-starred in the movie with the first actor or actress. If they answer correctly, the next person says a movie that the second actor or actress was in, and the game continues. Each person who answers correctly gets a point. Other games include Two Truths and a Lie, Celebrity Couple and Porno Password.
Potluck
One of the toughest parts of organizing a party is the preparation of food. By making the party into a potluck, you can take the task off your list and enjoy the cooking prowess of your guests. One twist to the potluck idea is to have each guest bring a dessert, making it a "dessert first" party. Make sure that each guest knows to prepare enough for the entire group, which will lead to sugar highs and a great deal of leftovers, but it will certainly make the party more memorable.
Event Based
Since the party only involves a small amount of people, it is entirely possible for you to take everybody out on the town. Dining in an elegant restaurant can make the birthday person feel incredibly special. Taking everybody out to the baseball or football game is a treat for the sports fan. Other ideas include taking a private yacht cruise, experiencing a wine tasting, a movie studio tour or a horse and carriage ride.