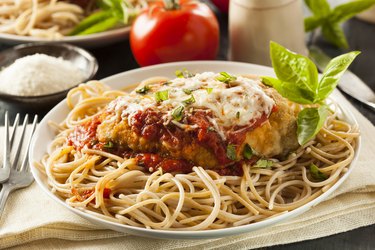 Classic chicken Parmesan pulls in a mix of flavors and textures to create a rich Italian meal option. Serving up flavorful sides that balance out the dish make it a true meal. You can go light with veggies and salads or go classic and filling with pastas and breads. Consider the various chicken Parmesan sides for your next meal to feel like you're enjoying Italian restaurant fare at home.
Hot Pasta or Zucchini Noodles
The classic way to serve your favorite chicken Parmesan recipe is with a side of hot pasta. It's a quick, easy dish that's hearty enough to work with the chicken. Spaghetti is a go-to chicken Parmesan pasta, but you can cook up your favorite shape of pasta to go with it.
If you're looking for a lighter option, consider using zucchini noodles in place of traditional pasta. You can buy frozen zucchini noodles or other veggie noodles that are already cut for faster prep, or you can make your own with a vegetable spiralizer and saute or steam them for just a few minutes to soften them.
Top either type of pasta with rich tomato sauce to give it more flavor. You can serve your chicken Parmesan on the side or place it directly on top of the pasta.
Crisp Side Salads
A salad gives you a cooling, crisp side to balance out the rich flavors of your hot chicken Parmesan. It's a lighter option than pasta if you're looking for a healthier side dish. Salad works well because you can use so many different combinations of greens, toppings and dressings to find what you like.
Mix up your favorite lettuce salad with lots of fresh vegetables and your favorite dressing, or set up a mini salad bar at home so everyone can build his own perfect salad.
A traditional Caesar salad is another side dish option. It holds up to the intense flavors of the main dish with its own bold taste. The dressing offers a tangy touch to your meal.
Veggies as Chicken Parmesan Sides
Hot vegetables work well as healthy sides for chicken Parm. Season classic steamed green beans with garlic, almonds, bacon or other favorite flavors to serve as a side. Steamed carrots and other steamed vegetables also work for that lighter contrast to the intense main dish.
If you prefer a crispier option, roast your favorite vegetables in the oven. Potatoes, Brussels sprouts and broccoli are good options that hold up well to roasting. Toss the chopped veggies with olive oil and your choice of seasonings. Roast them until they're golden brown.
Hearty Mashed Potatoes
Chicken Parmesan is a hearty dish on its own with the breading, chicken, cheese and sauce. They may not be as common as pasta, but mashed potatoes offer a side dish option that's just as hearty as the main dish. Think of it as an Italian twist on the traditional fried chicken and mashed potatoes dinner.
Keep in mind that serving mashed potatoes with chicken Parmesan makes for a heavy meal. Balance it out by also serving a light salad or steamed vegetables.
Classic Bread Options
Italian dishes and bread are a natural combination. Serve a side of breadsticks or garlic bread. You can also make the meal a little more gourmet with fresh, crusty bakery bread.
Add a side of marinara sauce for dipping. You can also use olive oil with seasonings as a dipping sauce for your bread.
Switch up the meal a bit by serving your chicken Parmesan on a toasted hoagie bun. This sandwich version offers a new twist on the classic dish. It turns it into a hand-held option with a mix of textures between the chicken and the bread.