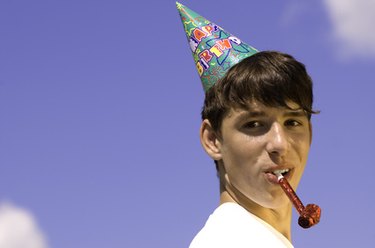 Teenage boys can enjoy birthday parties, but generally prefer something more low-key than the parties they had when they were younger. The best parties for teenage boys have little parental involvement and offer the boys the chance to spend time together doing things they enjoy. Since each boy's interests are different, coming up with the perfect party plan should involve the teen.
Paintball or Laser Tag Party
Pay for the boys to participate in a paintball or laser tag party. You can provide transportation to the business location or have everyone meet there. Then allow the boys to play for a session or two. After they have played take them home and offer pizza along with ice cream and cake. The boys can hang out for a little while afterwards.
Video Game Party
Gather together all of your televisions into one or two rooms and invite the boys to bring additional game systems if you want to. Then set up several video games systems and allow the boys to play during the party. Be sure to provide lots of food and snacks. You can have the ice cream and cake at the end of the party.
Barbecue and Pool Party
This is a great co-ed party for teenage boys. Invite several of his friends over to swim and to eat. Provide music to be played in the background and let the kids talk and have fun hanging out. You can provide ice cream and cake towards the end of the party. This is a great daytime party and allows for easy parental supervision as you restock the food and drinks throughout the day. If you do not have a pool consider renting one or using a friend's.
Camp Out Party
Take a small group of boys camping. Provide food to cook over the campfire and let them explore the woods around them. Depending on the weather the boys can sleep in a tent or under the stars. You can make them breakfast and drive them home in the morning. It is a nice twist on a traditional slumber party.
Go to a Sporting Event
Take a small group of friends to a professional or college sporting event in the community. You can take the boys out to dinner as part of the evening and have the birthday boy sung to in the restaurant. A good party favor can be a T-shirt or sports memorabilia from the night. Buying the shirts at a local store rather than the stadium can save money.